It's overdue for Jakey to get his own thread.
He's in the print and online USA Today, today.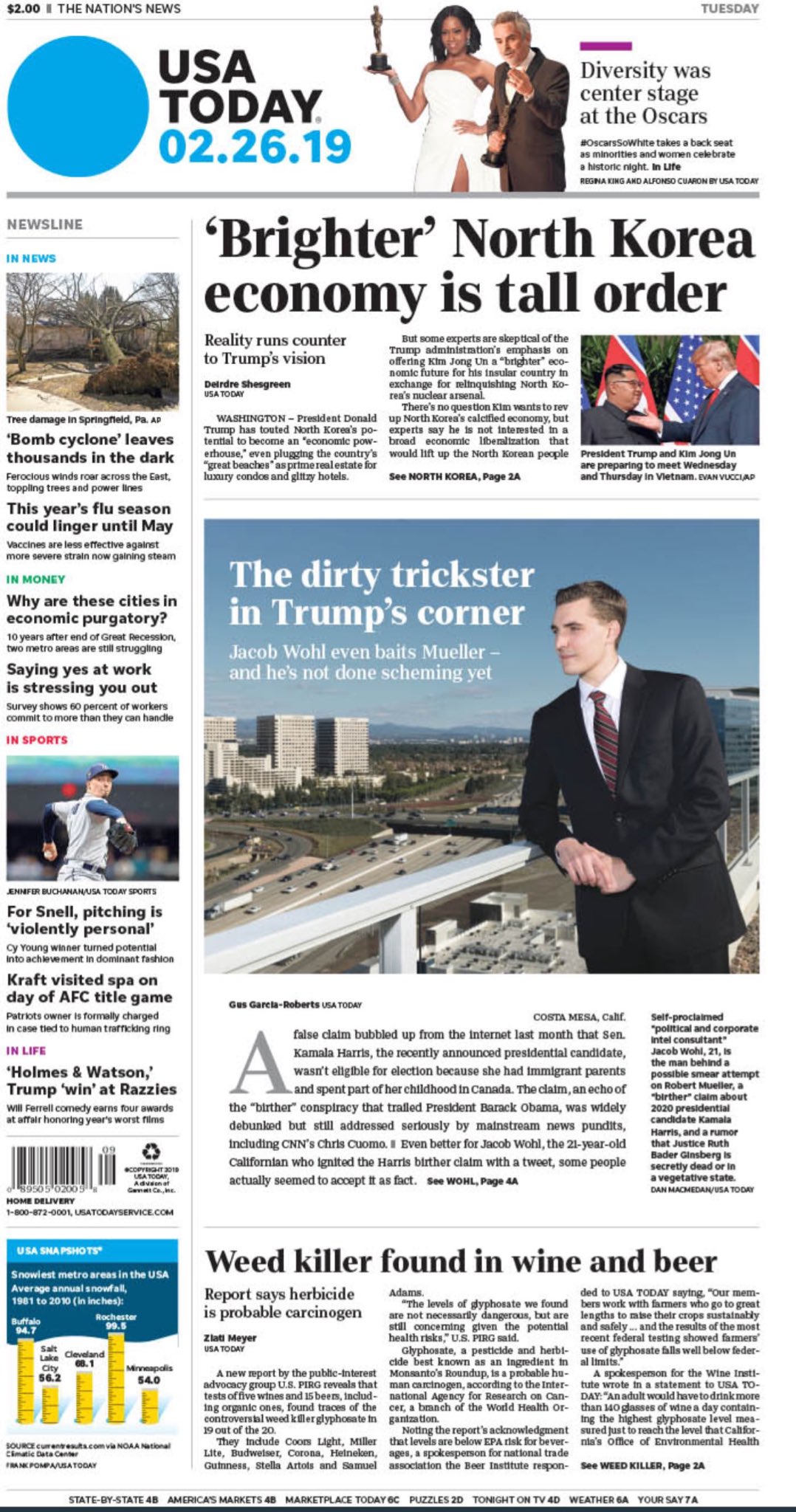 ...
This 21-year-old tweeted lies about Robert Mueller and Ruth Bader Ginsburg. Now, he's eyeing the 2020 election
COSTA MESA, Calif. – A false claim bubbled up from the internet last month that Sen. Kamala Harris, the recently announced presidential candidate, wasn't eligible for election because she had immigrant parents and spent part of her childhood in Canada. The claim, an echo of the "birther" conspiracy that trailed President Barack Obama, was widely debunked but still addressed seriously by mainstream news pundits, including CNN's Chris Cuomo.

Even better for Jacob Wohl, the 21-year-old Californian who ignited the Harris birther claim with a tweet, some people actually seemed to accept it as fact.

"The believability stuck at about 15 to 18 percent by my measurement," Wohl said in an interview shortly afterward, declaring it "not a bad campaign."

Jacob Wohl ✔ @JacobAWohl
Kamala Harris is NOT eligible to be President. Her father arrived from Jamaica in 1961—mother from India arrived in 1960

Neither parent was a legal resident for 5 years prior to Harris's birth, a requirement for naturalization

Kamala was raised in Canada
10:38 AM - Jan 22, 2019

Wohl, a self-professed "political and corporate intel consultant" and supporter of President Donald Trump, is dedicated to plying the malleable fringe of the electorate with dubious claims and disinformation schemes.

Amplifying him in that quest are his links to the world's loudest Twitter cheerleader, Trump. Wohl's father, attorney David Wohl, says that as a Trump surrogate he was on calls with the 2016 presidential candidate daily. David Wohl has regularly appeared on cable news networks to promote the president and his policies.