It was Mama June's 40th Birthday! I imagine many of you wrote birthday cards or posted on MJ's social, but for the tiny few that might not have, here's a rundown:
Here's the Birthday Girl (sorry she's still with Geno)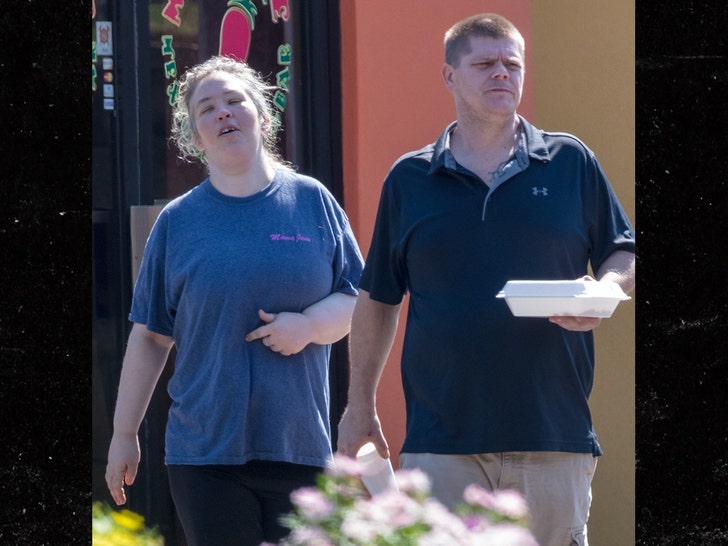 Mama June Makes Rare Public Appearance Days After Her 40th Birthday

Aug 13, 2019 2:13 pm

We see you, Mama June! On Monday, August 12, the longtime reality star — who celebrated her 40th birthday on August 10 — was spotted leaving a Mexican restaurant in her hometown of Hampton, Georgia.

***

Unfortunately for her fans, however, June's social media presence has been pretty spotty in recent months. In fact, she hasn't posted on Instagram since June 17 … gasp. That said, June's followers still left kind wishes and words of encouragement on her birthday. "Happy Birthday, Mama June! Hope you're doing well," one user commented. "Miss you, Mama June! Happy Birthday," added another.

"Been rewatching old seasons of your show. Come back! Happy Birthday," a third person chimed in, while a fourth echoed, "Love you and your crazy beautiful personality!" We second that. Here's hoping we all see more of Mama June in the coming weeks.
https://www.lifeandstylemag.com/posts/m ... -birthday/
TMZ:
MAMA JUNE & GENO
ROUGH LOOKING LUNCH DATE

8/12/2019 1:16 PM PT

EXCLUSIVE

Things are NOT getting better for Mama June -- who family members believe is in the grips of drug addiction -- because the visuals of her leaving lunch with her BF are rough. June and Geno Doak looked pretty disheveled Monday as they left a restaurant in their hometown of Hampton, GA. The image of them, after chowing down on Mexican, won't do anything to alleviate her daughters' fears she's spiraling out of control.

Seriously, it's just not a good look. The reality star still looks like a shell of her former self. She seemed to be struggling to keep her eyes open -- and, as you can see, June is still walking around with her busted chompers. Fixing her busted veneers is clearly not a priority ... they've been this way for months. Mama's been in a downward spiral ever since her March arrest for possession of crack cocaine.

Frankly, she's looking even worse now than she did when her family attempted an intervention earlier this year -- which left Honey Boo Boo in tears as her mother rejected the pleas for her to get help. If June's waiting to hit rock bottom ... sure seems like she's getting dangerously close.
https://www.tmz.com/2019/08/12/mama-jun ... geno-doak/
Let's go back to happier days... in 2014 HBB got MJ a Meat Cake for her birfday! Now, that's creative.
Published on Jun 20, 2014

Honey Boo Boo Returns with Surprise Meat Cake for Mama June's Birthday

Honey Boo Boo, or Alana Thompson, is back for season 4 of 'Here Comes Honey Boo Boo' and she's throwing Mama June a surprise birthday party. As John Basedow (@JohnBasedow) reports, the Thompson clan returns to TLC with balloons, monkeys, a cardboard Mario Lopez and a 'Fart Zone Throne' as they celebrate their matriarch's special day in tropical vacation style.