Memories of Barack Obama: First Jobs and Harvard Law School
No one knows what Obama did after Columbia. No one at Harvard remembers him. There's no record that he ever graduated from law school. Where is his thesis? Where are his publications? Where are his professors? His friends? Why doesn't anyone say they worked with him? Where are his landlords? It's as if he burst on the scene with no past.
Like everything else Birther, this meme is easily debunked. After Barack Obama graduated from Columbia he worked at a few places, moved to Chicago to take a job in his field, then ultimately decided that a law degree would help him reach his goals. Much of this was actually in the public eye. 
Chicago: Starting a Career
Cambridge: Harvard Law School
Harvard Civil Rights Law Review
Previous Page: Occidental College and Columbia University                                                   Next Page: After Harvard
---
Business International Corp, New York, NY
PUBLICATIONS:
"Financing Foreign Operations [Yearbook]", Business International Corp, New York, NY 
"Business International Money Report", Business International Corp, New York, NY 
The Job:
Barack Obama rarely talks about his year spent within the arcane sphere of global finance as a junior editor for Business International Corp., a publisher based in New York…unlike many of his peers, Obama did not spend his senior year making plans to attend graduate or professional school. Obama took charge of updating Financing Foreign Operations, a yearbook (annual subscription: $900) for which he edited manuscripts from correspondents in 40 countries. Obama also wrote for Business International Money Report, a newsletter covering currency issues and monetary policy. 
The flagship publication had an activist bent, as an early champion of corporate social responsibility. A 1983 "call for action" encouraged multinational companies to push not only for lower corporate taxes in the countries in which they operated but also reduced weapons spending, as a means to promote "peace through greater global understanding and economic integration." But the publications for which Obama worked had far narrower interests. Written for bankers and financial executives, Business International's money report delivered practical, if often rarefied, advice for eluding foreign-exchange rules that often limited the ability of investors to efficiently control their assets.
SUPERIORS
Cathy Lazere, Supervisor 
Cathy Lazere, his supervisor at Business International, described him as self-assured and bright. "He was very mature and more worldly than other people — on the surface kind of laid back, but kind of in control," she said. "He had a good sense of himself, which I think a lot of kids at that age don't." 

"I thought that he was going to be a novelist or something like that. He seemed like the type of person who was observing the world and taking it in."
Lou Celi, Vice President
"It was not working for General Foods or Chase Manhattan, that's for sure," said Louis Celi, a vice president at the company, which was later taken over by the Economist Intelligence Unit. "And it was not a consulting firm by any stretch of the imagination." 

"He had a good profile for Business International: bright, articulate, a good writer, and a knowledge of world issues and affairs," said Lou Celi, an editor of Obama's.

"He always seemed aloof, a little bit of a stray cat," added Celi.

After about a year at Business International, Obama found a job as a community organizer in Chicago. "I remember telling him he was making a big mistake," said Celi, who conducted Obama's exit interview. "He let me know he had bigger fish to fry."
"We definitely learned our ABCs of the financial markets," said Beth Noymer Levine. She was hired shortly before Obama and reported to the same boss. "I like to say Michelle Obama will be first lady, but I will always be first colleague."

Levine and Obama worked on a variety of newsletters for companies doing business overseas. The newsletters were aimed at senior executives and had arcane titles like "Financing Foreign Operations" or "Investing, Licensing, and Trading Conditions Abroad." Even in a company filled with smart people, Obama made an impression.

"I always say, he was very smooth and smart and together, and I was 23," Levine joked. "I felt like a human train wreck next to him."

Obama was even younger. But colleagues say he was mature beyond his years. True to its name, Business International had a global flavor. It was located near the United Nations, and many of the staffers, like Obama, had degrees in international relations rather than MBAs. It was the kind of place where a young person could take on a lot of responsibility, and you quickly learned to speak the language of the financial professionals for whom you were writing.

Most news accounts of Obama's career omit the New York chapter altogether. Levine says she understands that.

"I can see why CNN would skip over it," Levine said. "I mean, a lot of people had stops along the way in their careers that don't exactly fit the rest of the story. And maybe it was enough of an exposure for him to the corporate world to be like, 'OK, that's not exactly what I want.' "

"We were sort of thrown in. But when I reflect on it, we were all smart enough, and we had to learn by the seat of our pants," she said.
Susan Arterian Chang, Colleague
"None of us were hobnobbing with multinational corporate executives," said Susan Arterian Chang, a writer who worked alongside Obama. "They were boosters for multinationals and they thought globalism was the way we should be going," Chang said.

"He was all business; he didn't chat and gossip," said Chang. 
…Still, a belief in the primacy of markets as engines for both the creation of wealth and social progress prevailed at the company – as became evident in an office debate between Obama and a colleague over whether to trade with South Africa during apartheid.

Obama "made some comment like there should be a boycott of any company doing business there," recalled William Millar, a writer for the money report. "I said he needed to realize that it's the non-South African companies who were hiring blacks and giving them positions of authority with decent pay. That's what accelerates change – not isolation." 

Such discussions were rare for Obama, described by peers as a distant presence in the office: diligent about his work but rarely engaged by it, uninterested in after-work drinks with colleagues.  
Dan Armstrong, Colleague
It was a small newsletter-publishing and research firm, with about 250 employees worldwide, that helped companies with foreign operations (they could be called multinationals) understand overseas markets, they said. Far from a bastion of corporate conformity, they said, it was informal and staffed by young people making modest wages. Employees called it "high school with ashtrays." 

"You were thrown in the deep end, and you learned a lot, and you had to pretend to be more of an expert than you were," said Dan Armstrong, who supervised one of the newsletters.

Armstrong said Obama's book exaggerates just how respectable Business International was, with its description of suits and ties and meetings with German bond traders. There was no dress code, Armstrong said. And there was nothing corporate about it.

"It was a company full of low-paid, hard-working, fun-loving young people," Armstrong said. "It wasn't part of a high-powered consulting or finance world. It was a little sweatshop."

Armstrong was shocked when Obama quit after a year, without even having another job lined up. 
---
New York Public Interest Research Group (NYPIRG)
VIDEO: Obama and NYPIRG, Good Day, NY: Interviews with former colleagues 

Barack Obama's environmental education began in January of 1984, a year after he graduated from Columbia University, when he took an $800-a-month position running a chapter of the Nader-inspired New York Public Interest Research Group (NYPIRG) on the campus of Harlem's City College. 

Obama spent hours with students in the trailer that served as the group's office just below 140th Street and Convent Avenue, giving lessons on how to organize rallies and letter-writing campaigns, how to speak to legislators and lobby for change in public policy.  

Former colleagues recall a "fabulously intelligent" and confident young man who was intensely interested in the idea of creating political change from the ground up, an idea that would resurface years later in his meteoric political rise. He stood apart from some of the more radical students on campus, they said, and believed strongly in working within the system. 

Obama worked that spring semester, from February through late May, on several NYPIRG projects, including the Straphangers Campaign. 
SUPERIORS
Eileen Hershenov, Supervisor
When 23-year-old Barack Obama, then a recent Columbia University graduate, walked into the office of the New York Public Interest Research Group in 1985 after answering an ad for a job, his supervisor had a warning for him.  "I told him he would make less than $10,000 a year," said Eileen Hershenov, who was the downstate campus coordinator for NYPIRG. "He laughed and told me that was a step up for him."

"You needed somebody — and here was where Barack was a star — who could make the case to students across the political spectrum," said [Hershenov]. The job required winning over students on the political left, who would normally disdain a group inspired by Ralph Nader as insufficiently radical, as well as students on the right and those who were not active at all. 

When he told Hershenov he was leaving, she literally got down on her knees and begged him to stay, she said.  "I wanted him to stay because he could appeal to so many different people," Hershenov said. "People who were very interested in identity politics, people who were apolitical and people on the left and the right. He appealed to students across a political spectrum."
Obama's former supervisors recall hiring him to organize on the Harlem campus of the City University of New York as part of their campaign against the city's reliance on incinerators. "He was frighteningly coherent," said Chris Meyer, now a Consumer Union official, who interviewed him for the NYPIRG job. "I remember him interviewing with a presence and an assurance you just don't see in your average recent college grad."

"We were knee deep in solid waste," Meyer said. "We were one of the groups that was focusing on trying to change New York City's recycling policies and the way we were doing that had to do with trying to get NYC weened away from incineration and trying to look at waste alternatives."
"He was somebody that everybody took notice of," said Tom Wathen another former NYPIRG official now at the National Environmental Trust. "He did a very good job," said Wathen. "He revitalized the chapter, drew a lot of new students into it. Barack stood out because he had a certain amount of charisma that was kind of obvious."  
COLLEAGUES
Environmentalism was a core value at NYPIRG in the mid-80s, say former employees, and was, then as now, a perennial hot-button topic for campus activists. "You couldn't have avoided it in this organization," says Neal Rosenstein, who was working as a NYPIRG organizer at Stonybrook when Obama joined City College. "Working for NYPIRG was an education in and of itself – you were exposed to a huge amount of environmental issues." But if Obama came to environmentalism almost by accident, he nonetheless showed a remarkable zeal for organizing students around the issue; over time, he developed such a reputation for his environmental campaign work that students would tease him that he should quit smoking cigarettes because it was "an environmental issue". ("We all have flaws," Obama would sigh as he puffed away.) 
"He had a seriousness of purpose," recalled Diana Mitsu Klos, then a school organizer working out of the CCNY office. "His tenure was brief, but anyone who met him received a strong and lasting impression."
Alison Kelley, Colleague 
He'd arrived at NYPIRG's campus office—a cramped trailer parked on a patch of grass next to the science building—determined to change the world, but unclear about where to begin. "He didn't seem unsure of himself, but he seemed unsure of where he belonged," says Alison Kelley, who was a freshman at City College when Obama came to the campus. "You could tell he was driven, but he wasn't sure what he was driven by."

…[Kelly] remembers working with Obama to improve the City College subway station at 137th Street and Broadway, which was dirty and had poor lighting. She said he was among the early leaders in the successful push to get CUNY to divest itself of holdings in apartheid South Africa. He also led voter registration drives and campaigns to keep tuition down at CUNY. 

"We had other organizers who were competent people, but he really stood out," Kelley said. "Everyone knew that he was going to do something remarkable." 

Instead of focusing on environmental issues in isolation, Obama sought to join the dots, drawing students into energetic conversations about the way that air and water pollution was impacting on the health of the neighborhood's low-income residents, or about the economic forces that underpinned the problems the students wanted to tackle. "I don't think he'd have called himself an environmentalist per se," says Kelley. "He used to say that it was too narrow to look at things that way, because if you do you can't see the whole picture – and if you can't see the whole picture, you can't bring about real change."

But it was clear that Obama quickly came to sense the limits of such approaches. "He talked about being frustrated, that he wasn't moving fast enough," recalls Kelley. "I don't think he really saw the effect he was having, so he got antsy." He read widely, and would hold forth about different theories and models of organizing, about better ways to bring change and to get the job done. In the end, colleagues say, Obama decided that he would not be able to effect real change simply through campus organizing. At the end of the semester… Obama quit his job and moved on.

---
PUBLICATIONS
Obama, Barack. "Why organize? Problems and promise in the inner city." Illinois Issues. August/September 1988
Obama, Barack. "Why organize? Problems and promise in the inner city." After Alinsky: Community Organizing in Illinois. Ed. Peg Knoepfle Illinois Issues, 1990. Print
---
Developing Communities Project 
Developing Communities Project (DCP) was organized in 1984 as a branch of the Calumet Community Religious Conference (CCRC) that sought to impact the massive lay-offs and manufacturing plant closings in Southeast Chicago in the 1970's and 1980's. As an arm of CCRC, DCP initiated local action campaigns to improve the quality of life for residents in Greater Roseland. In 1986, DCP was incorporated as a not-for-profit organization under the leadership of its first executive director, then community organizer and now President of the United States, Barack Obama. DCP remained church-based with the mission to serve as a vehicle for grassroots leaders to impact decision-making around issues that affect their lives.
Did President Barack Obama once work for DCP?
Yes. He was the first executive director when DCP became independently incorporated. 
---
Video:
Becoming Barack: Evolution of a Leader (Trailer) 1993 Interview, Johnnie Owens, Developing Communities Project 
Contemporaneous Sources
Chicago Reader: 1992

… "Like most communities, we have problems of gangs, crimes, and drugs," says the Reverend Alvin Love, pastor of the Lilydale First Baptist Church and vice president of the [Developing Communities] project's board. "It breaks my heart to say this, but there are times when I can look out the window of my church and see drug deals going on at the high school across the street."

In 1984 members of several local congregations decided to unite to fight such problems. "As church people you see the need, but you can only address the problems on a small scale," says June Nicholson, a lay leader with the Wesley United Methodist Church, one of the project's affiliates. "You can operate a church clothing pantry or a food pantry, but that only goes so far and you feel almost powerless. You get frustrated and overwhelmed."

A group of people–the project's founding president, Loretta Augustine; its former executive director, Barack Obama; the present associate director, Cassandra Lowe; and Johnnie Owens–got together and decided on the strategy of recruiting churches.

The idea, of course, was not completely original. Saul Alinsky, the University of Chicago-trained sociologist who wrote the book on community organizing, pioneered that tactic more than 50 years ago in the slaughterhouse neighborhood known as Back of the Yards. Since then the church-based model has been replicated in white and Hispanic neighborhoods throughout the city.

However, with the exception of the Woodlawn Organization, few Alinsky-style groups have taken root in all- black neighborhoods. One reason, Owens and others speculate, is that black churches tend to be much more independent. And organizing for the project was made more challenging by several high-profile and dynamic church leaders, including Love and the reverends Albert Shears of Maple Park United Methodist Church and James T. Meeks of the Salem Baptist Church….
---
Gerald Kellman, Program Organizer

"Barack had been very inspired by the civil-rights movement," [Gerald] Kellman, the organizer who hired Obama, told
me recently. "I felt that he wanted to work in the civil-rights movement, but he was ten years too late, and this was the closest he could find to it at the time." Obama, in his memoir, put it more simply when he said he went to Chicago to "organize black folks."


But at first Kellman wasn't sure Obama was right for the job. "My wife was Japanese-American," Kellman recalled. "I showed her the résumé, with the background in Hawaii. The name's Obama, so I asked, 'Could this be Japanese?' She said, 'Sure, it could be.'" It was only when Kellman talked to Obama on the phone, and Obama "expressed interest in something African-American culturally," that a relieved Kellman offered Obama the job.

"He had no trouble challenging power and challenging people on issues," Kellman says. "When it came to face-to-face situations, he valued civility a great deal. … When it came to negotiating conflict, he was very good at that."

He liked hearing people's stories, and he liked writing them up, said Kellman and organizer Mike Kruglik, who also worked with Obama. Obama would turn in field reports that read like stories. At the time, he also was writing fiction in his free time and was weighing a future as a writer. "Understanding story narratives was very key," Kellman said. "He was already inclined to narratives, so he was very good at that." 

"He either had to fail or succeed in order to leave" the job, said Jerry Kellman, who hired him. "And he succeeded pretty well." 

Towards the end of the '80s, Kellman and Obama went to a conference on the role of the black church, held at Harvard Divinity School. The church was at the heart of most African-American communities in America, and Obama himself had worked within it and now found faith and a home at the Trinity United Church, whose controversial pastor, Jeremiah Wright, would marry Obama to Michelle in 1992. Kellman thinks it likely that Obama himself had considered a ministry – a career in the church – at some stage of his life. 

It was during their conference at Harvard that Obama told Kellman of his fears about ending up like his father, a political outcast and failure. He said he had decided to go to law school, and it was clear to Kellman that this was a step towards a political career. Kellman believes that Obama had seen the potential in grassroots organising for galvanising a mass movement – something he would put to good use later. "This isn't a campaign, it's a movement!" was a chant I would hear at Obama rallies in Hawaii in 2008. 
 Loretta Augustine-Herron, Founding Member, Developing Communities Project 
"Jerry introduces Barack, and Barack is so young, it's like, 'Oh my God,'" Loretta Augustine-Herron remembered. Obama was obviously smart, and he wanted to be an organizer, but he was, in fact, quite young (24) and he didn't actually know much about the job. Despite those drawbacks, he seemed to work some sort of magic on the leaders. "He had a sensitivity I have never seen in anybody else to this day," Augustine-Herron told me. "He understood." … "He didn't have experience," Augustine-Herron said. "But he had a sensitivity that allowed us to believe that he could do the job." So Obama it was. 

"This kid was so bright — I shouldn't say kid, this man was so bright, but he didn't hit you over the head with it," recalls Loretta Augustine-Herron, a founding member of the communities project. "He explained things so nobody would be offended." The women nicknamed him "baby-face Obama." They chided him when he would eat just a spinach salad for lunch, laughed when he showed off his dance moves and joked about his seriousness. 

Loretta Augustine-Herron recalled sitting at her kitchen table with Mr. Obama for several hours one afternoon at her home near a housing project.  "He was not in a hurry, and I told him about what I did working with Girl Scouts and volunteering at school as a room mother and for block clubs in the neighborhood," she said. "He wanted to know what made me tick, what my goals were and how things impacted the stability of my family." Ms. Augustine-Herron said that long afterward, Mr. Obama recalled details of their talk, like her oldest daughter's service in the Air Force.
"If you'd asked his views on the environment he'd have spoken as progressively as anyone would have spoken at that time," says Gregory Galluzzo, a veteran community organizer who trained Obama during his early years in Chicago. In fact, the bggest problem was beating the ideology out of Obama and making him focus on the task at hand. "I'd tell him, God damn it, I don't want you to talk about environmentalism," recalls Galluzzo, now director of the Gamaliel Foundation. "I want you to use your ears and not your mouth – get out there and find out what people want, and then we'll decide what we're going to do about it." 
… [A] meeting with the [Chicago Housing Authority] director ended in disaster, when angry residents shouted down the official and drove him from the meeting. Workmen did begin to seal off asbestos in the Altgeld complex, but progress stalled when the federal Housing and Urban Development agency denied the CHA's request for funding for asbestos removal and basic repairs. "You can have the asbestos removed. Or you can have new plumbing and roofing where it's needed. But you can't have both," a HUD official told Obama when he protested the decision. "These are the budget priorities coming out of Washington these days. I'm sorry." For Obama, it was a lesson in the limits of grassroots activism: a sign that power – real power, power that could be used to effect change – lay further on and further up the ladder. "He could see that the impact wouldn't reach beyond the neighborhood," former organizer John McKnight, who helped train Obama, told The New Republic earlier this year. "The change he was seeking was bigger."
"He was a stranger but he made his way," says Mike Kruglik, who worked with Obama as an organizer. "He could see himself in other people." 

 Obama also was honing his writing skills, crafting vivid short stories inspired by his Chicago experiences. He showed them to fellow organizer Kruglik, who was impressed by how he had captured the feel of the streets. "I couldn't figure out how he had the time and energy to do it," he says.
"In his view, figuring out who you are and then getting that person to think about what he or she is going to do with it is the first step toward empowerment," Daniel Lee, a fellow organizer, recalled. "He told me this was an extension of his own journey in struggling to find his identity."
When veteran organizer Harold Lucas heard there was a new [community organizer], he figured he had better check him out. Lucas weaved through hundreds of people who had gathered at the Lilydale First Baptist Church to pressure government officials to clean polluted local water. Lucas sidled up to the skinny kid with big ears who was poring over a clipboard.

Lucas didn't say a word, but peered at the young man's clipboard. On it he saw speakers' names, stick-figure drawings, scripts of speeches and backup speakers and scripts in case people froze.

"He was literally orchestrating the meeting from a clipboard in the back of the room," said Lucas, 65, who now runs a preservation tourism business in a historic downtown area called Bronzeville. "I said to myself: Either I don't know nothing about community organizing, or this kid is brilliant." 
Another activist, Linda Randle, remembers the beginnings of the campaign to get asbestos removed from homes in Altgeld and elsewhere. The houses had exposed pipes running through the rooms and they had been lagged with asbestos. Though it was not until after he had left for Harvard that the asbestos was finally removed, Obama and his colleagues played a central role in the campaign. The Altgeld homes were in a poor state of repair, but Randle recalls the housing authority telling them that they had to make a choice – repairs or asbestos removal – as there wasn't the money for both. 

She recalls Obama as "well groomed and skinny", always eating salads and always trying to include everyone in the meetings and campaigns, often in the face of hostile resistance. Randle had gone to a meeting once at Altgeld about the asbestos and been told how dare she come there to talk about it and take the credit, as if they had been first with asbestos; it had been their idea. It doesn't matter who was first, Randle told them, we all need to work together – just as Obama was always saying. 
Johnnie Owens, Colleague
As executive director of the Developing Communities Project, [Obama] had attempted to persuade the residents of Altgeld Gardens to become more involved in their community. Obama worked for the Developing Communities Project for four years.

"I'll never forget the amount of feeling he showed," recalled Johnnie Owens, who became the group's director when Obama left for law school in 1988. "He honestly evaluated his performance and made up his mind to do better."

Chicago Reader, 1995: Obama's work on the south side has won him the friendship and respect of many activists. One of them, Johnnie Owens, left the citywide advocacy group Friends of the Parks to join Obama at the Developing Communities Project. He later replaced Obama as its executive director.

"What I liked about Barack immediately is that he brought a certain level of sophistication and intelligence to community work," Owens says. "He had a reasonable, focused approach that I hadn't seen much of. A lot of organizers you meet these days are these self-anointed leaders with this strange, way-out approach and unrealistic, eccentric way of pursuing things from the very beginning. Not Barack. He's not about calling attention to himself. He's concerned with the work. It's as if it's his mission in life, his calling, to work for social justice.

"Anyone who knows me knows that I'm one of the most cynical people you want to see, always looking for somebody's angle or personal interest," Owens added. "I've lived in Chicago all my life. I've known some of the most ruthless and biggest bullshitters out there, but I see nothing but integrity in this guy."

Of course, despite the long hours and the hard work, Obama did have a personal life. He formed a close friendship with John Owens, who eventually took over his role at the DCP, having been trained and encouraged by Obama in preparation. 

Owens had his own organising job before they met, but was immediately aware that his friend was different from the usual kind of person he encountered, and took pleasure in sharing the broad range of Obama's interests. They went to a Cartier-Bresson photographic exhibition at the art institute and sometimes listened to jazz at a club in Hyde Park, not far from Obama's apartment. 

They went together to LA for two weeks of leadership training and Owens saw how Obama kept to a strict schedule of work and fitness, swimming and working out in the gym. "This guy was like a machine," he says. When Owens went to order dessert at dinner, Obama would caution him – "Are you sure you deserve that?" – asking him to think twice about whether he had "earned" the pudding with exercise. He was still keen on basketball and played to win, giving no quarter to Owens, even when it quickly became apparent that Obama was by far the better player and a good five years younger. 

It amused Owens, too, that Obama showed other sophistications: keeping a bottle of wine and two glasses ready on the side at home and inviting his friend around for "chicken paprika". When Owens asked what it was (it was not your typical African-American fare), Obama made a joke of the dish's simplicity: "Well, you know, it's chicken thighs with the skin off and paprika on it – and baked." His apartment was somewhat bare, but heavily laden with books and music. The music was classical and jazz, and the books were philosophy, history, modern classics of black literature such as James Baldwin, and some works on revolution, too.

Obama dated a young Chicago State University student for a couple of years and eventually moved in with her at her home, which was also in Hyde Park. Owens then took over the lease on Obama's apartment. He remembers the woman as white, though others thought she was of mixed white and Asian heritage. She was definitely not black and, Jerry Kellman recalls, there was some issue around her being threatened or disconcerted by Obama's involvement with black culture. Owens knew the woman and never sensed she was awkward around him. She was slightly built, with close-cropped hair. Linda Randle met her a few times too, when she went to see Obama in Hyde Park for one of their regular meetings at Valois, the local restaurant. 

The relationship ended just about the time Obama went off to Harvard. Owens recalls the woman being hurt "pretty badly" by the break-up and asking after Obama when Owens bumped into her in a store. But, according to Kellman, she too was going off in a new direction in her life, and the relationship had never looked like becoming permanent. The woman was not mentioned at all in Obama's book – unless she is heavily disguised, as he does write about a woman from New York whom he loved but ended up arguing with over race. 
Altgeld iGardens s the wildest place you had ever seen," said the Rev. Michael Evans, who helped run the Developing Communities Project, right after Obama left. "But Obama came out there and said, 'No, this is good. We can do something with this.' "
Rev. Alvin Love, Lilydale First Baptist Church
"Many of the parishes were in predominantly African-American communities, and I think all of the priests were non-African-American," Rev. Alvin Love, head of the Lilydale First Baptist Church on 113th Street, told me. "Barack came to me and wanted to try to connect with the whole community."

"He was interested in finding out what I thought could be done in the community about issues like public safety and employment, rather than giving me some long-winded spiel," said the Rev. Alvin Love… "We were looking for ways to get involved, and Barack gave us a mechanism to do that."

Mr. Obama asked him to attend a meeting with other ministers. "Fifteen churches were represented there, and we started making plans to mobilize around issues like drugs, violence and job training," Mr. Love said.

Trying to construct a wide-ranging alliance of churches, Obama succeeded with Love and a few other ministers, but he was hampered by the fact that he didn't go to church himself. "I said, 'If you go to a pastor, and you ask him to come get involved in a community effort, and you say you have a group of churches, and that pastor asks you what church you belong to, and you say none — then it's hard to get that pastor on board,'" Love recalled telling Obama. "He said, 'I know, I understand, I'm working on it.' He said, 'I believe, I'm just waiting for the right spot, the right place, the right time.'"
I had decided to visit Barack as his guest in Chicago. I was nervous. I was very close to my dad and Barack was a piece of him that I hadn't known. What if we did not get along? Well, I wasn't disappointed. We just got into the car, his little car, and started talking and never stopped. It was a very intense 10 days together.

Barack was a community organizer. He was just a small person, a nobody, but he had the same intensity he has today. He was disturbed by the status quo and was working at the grassroots to see what was going wrong. I was very active in political awareness work in Germany and I saw that he had the same energy and passion to make a difference and to change people's lives. 

---
HARVARD LAW SCHOOL
Official Sources
  

PUBLICATIONS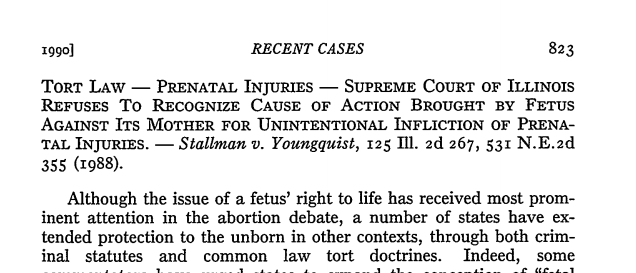 Recent Cases, Harvard Law Review Vol.103, p.823-828 (1990)

TORT LAW – PRENATAL INJURIES – SUPREME COURT OF ILLINOIS REFUSES TO RECOGNIZE CAUSE OF ACTION BROUGHT BY FETUS AGAINST ITS MOTHER FOR UNINTENTIONAL INFLICTION OF PRENATAL INJURIES.
Review President Explains Affirmative Action Policy

  Harvard Law Record. Volume 91, Number 7 (November 16, 1990) 
---
VIDEO
---
Harvard Law School Alumni listings
---
Harvard Publications
The Harvard Crimson, 2007

The presidential hopeful graduated magna cum laude from the Law School in 1991; his wife earned the degree three years earlier.

Harvard Law Bulletin, 2008

A Commander in Chief

 In law school, Barack Obama '91 already looked—and led—like a future president

Harvard Law School Alumni Spotlight, 2009

President Barack Obama '91 is the recipient of the 2009 Nobel Peace Prize. Cited for "his extraordinary efforts to strengthen international diplomacy and co-operation between peoples," Obama becomes the third sitting U.S. president to receive the award, along with Theodore Roosevelt and Woodrow Wilson.

When sworn in on Jan. 20, Barack Obama will become the eighth U.S. president to have graduated from Harvard. President-elect Obama is a 1991 graduate of Harvard Law School. He joins current President George W. Bush (M.B.A. '75) and Presidents John Adams, John Quincy Adams, Rutherford B. Hayes, Theodore Roosevelt, Franklin D. Roosevelt, and John F. Kennedy as Harvard graduates chosen to serve as the nation's chief executive.

Barack Obama, 1961-  

President-elect   J.D. mcl '91  

Harvard Law School: Spotlight at Harvard Law School, Alumni Pursuits

Barack Obama '91 has won election to the presidency of the United States. Michelle Obama '88 will become the first HLS alumna to serve as First Lady.

"On this historic day, the Harvard Law School community is proud of its extraordinary alumnus, President-elect Barack Obama '91," said HLS Dean Elena Kagan '86. "We feel privileged that this law school played a part in his life, and we look forward to his fulfilling all the potential for greatness that so many here saw even when he was a student. We also salute Michelle Robinson Obama '88 for her significant role in this campaign and for the talent and grace she will bring to her position as First Lady." 

Obama arrived at the law school in 1988 at the age of 28, after several years as a community organizer in Chicago. Two years later, he made history at HLS when he was elected the first African-American president of the Harvard Law Review.  
---
News Reports
The New York Times, Feb. 6, 1990

The Harvard Law Review, generally considered the most prestigious in the country, elected the first black president in its 104-year history today. The job is considered the highest student position at Harvard Law School.

The new president of the Review is Barack Obama, a 28-year-old graduate of Columbia University who spent four years heading a community development program for poor blacks on Chicago's South Side before enrolling in law school. His late father, Barack Obama, was a finance minister in Kenya and his mother, Ann Dunham, is an American anthropologist now doing fieldwork in Indonesia. Mr. Obama was born in Hawaii. 

The Boston Globe, February 15, 1990


Barack Obama became the first black president of the influential Harvard Law Review last week, after a marathon 17-hour selection process that pitted him against 18 other candidates. But he says he felt the full significance of the honor only after a rival candidate, also black, embraced him.

"He held onto me for a long time," said Obama, 28, a second-year student at Harvard Law School. "It was an important moment for me, because with that embrace I realized my election was not about me, but it was about us, about what we could do and what we could accomplish."
Chicago Tribune, February 07, 1990

Activist In Chicago Now Heads Harvard Law Review

Just a few years ago, Barack Obama was helping residents of the Altgeld Gardens housing development challenge the Chicago Housing Authority over asbestos in their apartments.

On Monday, the 28-year-old Obama was named president of the Harvard Law Review, the nation`s most prestigious student legal journal. Obama is the first black elected to the post in its 104-year history.

The Review is considered one of the most authoritative of the law school reviews and is a forum for judges and scholars. It is also a high-powered springboard for aspiring lawyers. Its presidents usually go on serve as a clerk for a judge on the U.S. Court of Appeals for a year and then as a clerk for an associate justice of the U.S. Supreme Court.

It took 91 years to elect a woman, and it wasn`t until last year that an Asian was elected by his fellow editors to the position. For Obama, it`s another victory in the fight against "powerlessness."

"People don`t feel that they can have much impact," he said in a phone interview from the Review`s offices. "I want to get people involved in having a say in how their lives are run. More and more of that needs to be done…"

Born in Hawaii to the late Barack Obama, once a finance minister in Kenya, and Ann Dunham, an American anthropologist, Obama went to Columbia University before moving to Chicago to work as a community organizer.

Barack Obama's Law Personality: Harvard Law Review's first black president plans a life of public service. His multicultural background gives him unique perspective.

Barack Obama stares silently at a wall of fading black-and-white photographs in the muggy second-floor offices of the Harvard Law Review. He lingers over one row of solemn faces, his predecessors of 40 years ago. All are men. All are dressed in dark-colored suits and ties. All are white. It is a sobering moment for Obama, 28, who in February became the first black to be elected president in the 102-year history of the prestigious student-run law journal.  

The post, considered the highest honor a student can attain at Harvard Law School, almost always leads to a coveted clerkship with the U.S. Supreme Court after graduation and a lucrative offer from the law firm of one's choice. 

Yet Obama, who has gone deep into debt to meet the $25,000-a-year cost of a Harvard Law School education, has left many in disbelief by asserting that he wants neither. 

"One of the luxuries of going to Harvard Law School is it means you can take risks in your life," Obama said recently. "You can try to do things to improve society and still land on your feet. That's what a Harvard education should buy-enough confidence and security to pursue your dreams and give something back."  
The new president of the Harvard Law Review was somewhat taken aback by the deluge of media coverage that followed hard on the heels of his election. The New York Times ran a "First Black" headline, which probably won't be the last time that label is affixed to Barack Obama. The twenty-eight-year-old law student says he wasn't going to run for the office until a black friend talked him into it. "There's a door to kick down," the friend argued, "and you're in a position to kick it down." The job does give him a great forum, but there's a trade-off. "I like to read novels, listen to Miles Davis," he says. "I don't get to do that anymore. I don't get dates anymore." Still, he's philosophical, even briskly cheerful, about his lost leisure. And that's because Barack Obama has a game plan: he wants to tackle the quagmire of America's inner cities. Federal money alone won't do it, he argues. The deeper problem is that "those communities are unorganized. We need to get more people planning." For preparation, Harvard Law School is a "perfect place to examine how the power structure works. It gives you a certain language." When he's fluent, he'll be able to translate the language of the streets ("which I can speak") into the language of the Establishment, and vice versa.  
Other Publications
Tribe, Laurence H. "The Curvature of Constitutional Space: What Lawyers Can Learn From Modern Physics," 103Harvard L.aw Review 1 (1989). (reprinted in Quantum Politics: applying Quantum Theory to Political Phenomena(Theodore L. Becker, Editor) (Praeger Press 1991)) 

"I am grateful to Rob Fisher, Michael Dorf, Kenneth Chesebro, Gene Sperling, and Barack Obama for their analytic and research assistance and to Professor Gerald Holton (Harvard Physics Department) for his helpful comments."

Tribe, Laurence H. & Michael Dorf. On Reading the Constitution (Harvard University Press 1991).


Acknowledgements

 We are grateful for the outstanding efforts of several very talented people… Robert Fisher and Barrack [sic] Obama have influenced our thinking on virtually every subject discussed in these pages.  

Chapter 2 Structuring Constitutional Conversations 

[Footnote] 1. We are grateful to Richard Fisher and and Barack Obama for the metaphor of constitutional interpretation as conversation. 

Tribe, Laurence H. Abortion, the clash of absolutes. W. W. Norton & Company, 1992.

Acknowledgements

Several of my current students at Harvard Law School should be singled out for thanks; their energetic ant thouough research, their intelligent editing suggestions, and their careful proofreading all made a great difference. Those students are … and especially Ellen M. Bublick, Michael C. Dorf, Barack H. Obama, Ashar Qureshi, Jerri-Lynn Scofield, and Lisa B. Shelkrot.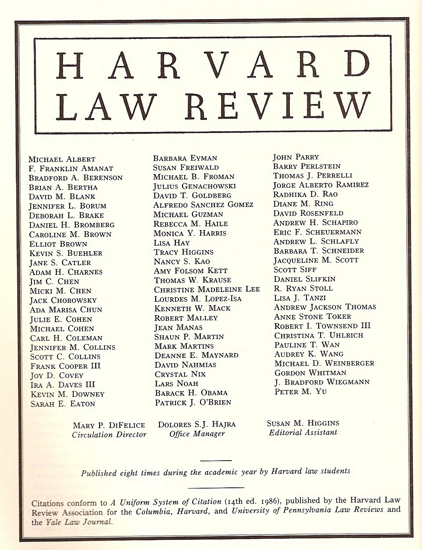 HARVARD LAW REVIEW
Contributors, Harvard Law Review
And when, in an unusual move, he selected a young woman from a non-Ivy League law school to fill one of the Review's most prestigious slots, she produced an essay focused on individual responsibilities as much as on liberties, which criticized both conservative judges and feminist scholars. 

"I was very surprised and honored to receive the invitation, of course, as I was teaching at Maryland Law School at the time, and the Forward typically is extended to more established scholars at 'top' law schools," wrote Robin West, now a professor and associate dean at Georgetown Law Center, in an e-mail to Politico. While other articles are selected by the Review's editors as a group, the Forward is solicited by a smaller band led by the Review president. 

West worked closely with Obama on her piece, she said, recalling him as gracious and helpful, if a bit polite, even formal: "He would always ask first about my baby," she recalled.

Obama "clearly agreed with me at the time that a shift in constitutional thinking from a rights-based discourse to one that centered [on] responsibility and duties … would be a good thing," West told Politico. "Partly because of those conversations, I don't find it surprising at all that Sen. Obama's speeches are often marked by calls to spark a sense of responsibility, rather than a sense of grievance." 

Once a piece is set, the president also sends a letter or fax and makes a follow-up phone call to each author. Federal Judge Michael W. McConnell, who was nominated by George W. Bush and has frequently been mentioned as one of Bush's potential Supreme Court nominees, recalls receiving one such letter and call in early 1990 for his article "The Origins and Historical Understanding of Free Exercise of Religion."  

McConnell told Politico, "A frequent problem with student editors is that they try to turn an article into something they want it to be. It was striking that Obama didn't do that. He tried to make it better from my point of view." McConnell was impressed enough to urge the University of Chicago Law School to seek Obama out as an academic prospect.  

Telling Stories about Women and Work: Judicial Interpretations of Sex Segregation in the Workplace in Title VII Cases Raising the Lack of Interest Argument; Schultz, Vicki. 103 Harv. L. Rev. 1749 (1989-1990) 

Yale professor Vicki Schultz, then an assistant professor at the University of Wisconsin law school, wrote a lengthy article for the June 1990 issue titled "Telling Stories About Women and Work" that compared how the courts handled sexual and racial discrimination cases. She was concerned that "some African-American scholars might be offended by the comparison," but says Obama was "incredibly reassuring and smart and nonideological" about the way he approached the piece. 
Cassandra Butts '91, Classmate, Law Review
Most remarkable, given his complex identity, was how comfortable Obama seemed with himself. "Barack's identity, his sense of self, was so settled," recalled Cassandra Butts '91, who met him in line at the financial aid office, in an interview with PBS's "Frontline." "He didn't strike us in law school as someone who was searching for himself."

It was one of the first few days of our law school experience. We met at the financial aid office at Harvard Law School. We were going through the process of filling out a lot of paperwork that would make us significantly in debt to Harvard for years to come. We bonded over that experience.

The Barack that I knew at the time is fundamentally the Barack that you see today, the candidate. He was incredibly mature. He had spent three years as a community organizer in Chicago, so he came to law school without some of the angst I think that many of us had who were only a year, or maybe less than a year, away from college. He was very mature, and he was very directed. He knew what he wanted to do: get his law degree and learn as much as he possibly could and take that experience back to Chicago and work in the same communities that he had worked as an organizer.

He was a very calm presence and someone who had a very good sense of himself, where he fit in, and what he wanted to do with his life.

I was as close to Barack as anyone in law school. He'd never expressed an interest in being president of the Law Review. It wasn't something that he talked about. Frankly, he was drafted by his colleagues on the Law Reviewto run. They made the case why he should run and why they thought that he could lead the Law Review. And they thought that he would be able to bring together the factions that had developed as a result of the divisions, the ideological divisions on the Law Review, on the left and the right. …

Barack, from the start, had a leadership style that was very embracing. He was clearly seen as a leader, but at the same time, he didn't put himself out as a leader. We had a lot of people who were pretty ambitious at the law school, people who had political ambition. They were not quiet in their political ambition and putting themselves out as leaders. That wasn't Barack.

A student meeting was held to discuss another burning matter of the day: What was the appropriate terminology—black or African-American? "For him, it was a false choice," Butts says. "It wasn't that he was trying to appease one side or the other but that he was refusing to accept that it was an either-or. And, in fact, we use black and African-American interchangeably now." Butts adds that Obama saw the whole debate as "a very elite discussion. It wasn't something people were talking about on the South Side of Chicago."
Bradford Berenson, '91, Classmate, Law Review
The debates and discussions of the law and of cases frequently pit conservatives in our class against liberals in our class, and the discussions often got quite heated. I would say the environment at Harvard Law School back then was political in a borderline unhealthy way. It was quite intense.

You don't become president of the Harvard Law Review, no matter how political, or how liberal the place is, byvirtue of affirmative action, or by virtue of not being at the very top of your class in terms of legal ability. Barack was at the very top of his class in terms of legal ability. He had a first-class legal mind and, in my view, was selected to be president of the Reviewentirely on his merits.

…the conservatives were eager to have somebody who would treat them fairly, who would listen to what they had to say, who would not abuse the powers of the office to favor his ideological soul mates and punish those who had different views. Somebody who would basically play it straight, I think was really what we were looking for. 

… And ultimately, the conservatives on the Review supported Barack as president in the final rounds of balloting because he fit that bill far better than the other people who were running. …

We had all worked with him over the course of a year. And we had all spent countless hours in the presence of Barack, as well as others of our colleagues who were running, in Gannett House [the Law Review offices], and so you get a pretty good sense of people over the course of a year of late nights working on the Review. You know who the rabble-rousers are. You know who the people are who are blinded by their politics. And you know who the people are who, despite their politics, can reach across and be friendly to and make friends with folks who have different views. And Barack very much fell into the latter category. …

[After Obama is selected,] he does a very able job as president. Puts out what I think was a very good volume of the Review. Does a great job managing the difficult and complicated interpersonal dynamics on the Review. And manages somehow, in an extremely fractious group, to keep everybody almost happy.

"He tended not to enter these debates and disputes but rather bring people together and forge compromises," says Bradford Berenson '91, who was among the relatively small number of conservatives on the Law Review staff.

"Even though he was clearly a liberal, he didn't appear to the conservatives in the review to be taking sides in the tribal warfare," said Bradford A. Berenson, a former Bush administration lawyer who was an editor at the review.

"The politics of the Harvard Law Review were incredibly petty and incredibly vicious," Berenson said. "The editors of the review were constantly at each other's throats. And Barack tended to treat those disputes with a certain air of detachment and amusement. The feeling was almost, come on kids, can't we just behave here?"

Image: Barack Obama at his fellow student Bradford Berenson's apartment, where he watched the 1990 mid-term election returns.
Christine Spurell, '91, Classmate, Law Review
Honestly, we were just very polarized on the Law Review, we really were. It's like you go to a college campus, and the black students were all sitting together. It was the same thing with the Law Review; the black students were all sitting together. Barack was the one who was truly able to move between the different groups and have credibility with all of them. 

…I don't know what he's like now with conservatives, but I don't know why at the time he was able to communicate so well with them, even spend social time with them, which was not something I would ever have done. …
Michael Froman '91, Classmate and Law Review
Obama displayed other traits, besides eloquence, that would define his success as a presidential candidate.

"You could see many of his attributes, his approach to politics and his ability to bring people together back then," says Michael Froman '91, who worked with Obama on the Law Review. As a campus leader, he successfully navigated the fractious political disputes raging on campus.
Kenneth Mack '91, Classmate and Law Review
Barack was one of the first people I met nearly 20 years ago at Harvard, when I began my first extended sojourn outside of my native central Pennsylvania. We were in the same first-year section and became good friends during that year and the next two, when we served together on the editorial staff of the Harvard Law Review.

In those days, the law school was a contentious place, nicknamed "Beirut-on-the-Charles" (the Charles River flows through campus) by its detractors for the school's pitched ideological battles among professors and, later, students.

A good bit of that reputation was exaggerated, but it remained a disconcerting place for someone like myself, raised in a state whose peculiar demographics so often seemed to produce politicians who confounded party and ideological labels. 

From the beginning, Barack struck me as a person who confounded labels of every sort. He was only three years older than me and many of the other students, but he easily seemed a decade older. Most of us knew that he had been a community organizer in Chicago. Many people expected him to be interested mainly in urban politics, but the first impression he made was that of a worldly wise person who could talk as easily about national security and international relations as he could about tax relief and education policy.

Not surprisingly, one of his closest friends that year was someone who was much older than most of us and who had been an economics professor before coming to law school. Among an extraordinarily bright and deep group of students, Barack was perhaps the brightest and the deepest, but he wore his knowledge lightly and gave an impression of warmth and compassion that made him one of the most well-liked people in our class.

One of my most vivid memories of the law review election process was of one student who strongly disagreed with much of Barack's politics, but still pledged his firm support behind him. Indeed, it is a measure of his ability to bring us together that things fell apart only one year after Barack's presidency ended, with political bickering reaching such heights that the law review was the subject of a well-known expose in a book on the school's troubles.

When I think back on my law school friendship with Barack Obama, in many ways I feel as though I've come full circle. Last week, I had the honor of getting to know my hometown all over again when I returned to give a lecture in front of old friends and new.

Even in his first year, students saw Obama as a peacemaker. When his class needed someone to present an end-of-the-year gift to one stuffy contracts professor, the students chose Obama, who delivered a brief, gracious tribute. "It was a moment of diffused tension and levity," said Kenneth W. Mack, a Harvard Law School professor who was in Obama's class. "He pulled it off." 

… [At] a dinner at Obama's apartment, an older black student challenged Obama and other black students to compete for the [Law Review President] job. "And I do remember Barack saying that was the moment he finally decided, 'I'm going to do this,' " said Mack.
Radhika Rao '90, Law Review
One of Obama's most difficult tasks as editor in chief is keeping the peace amid the clashing egos of writers and editors. 

"He is very, very diplomatic," said Radhika Rao, 24, a third-year law student from Lexington, Ind. "He is very outgoing and has a lot of experience in handling people, which stands him in good stead."
Tina Ulrich '90, Law Review
Tina Ulrich, 24, a third-year student, wrote an article for the review that went through several editors before her final draft landed on Obama's desk. 

"When he sent it back, it had lots of tiny print all over it and I was just furious," she said. "My heart just sank. But it was accompanied by specific examples of how parts could be made better. He wound up getting an enthusiastic response from a very tired writer."  
Crystal Nix Hines '90, Law Review: Supervising Editor and Managing Board Member
"A lot of people at the time were just talking past each other, very committed to their opinions, their point of view, and not particularly interested in what other people had to say," said Crystal Nix Hines, a classmate who is now a television writer. "Barack transcended that."

In February 1990, when the time came to elect a new president of the law review, Obama was initially reluctant, said Nix Hines. The presidency seemed better suited for careerist types who were aiming for positions at top-flight law firms, Obama told her at the time. The son of a black Kenyan father and a white mother from Kansas, he wanted to return to his work in Chicago as a community organizer.

"I was surprised because I knew he was very popular and well-regarded and obviously had the ability to do the job," Nix Hines said.
Jonathan Molot '92, Law Review
"I've never in my life encountered anyone else about whom I said, 'This person should be president,'" Molot says. So many alumni attended that 2007 fundraiser at Molot's home that Obama quipped, "I feel like I'm at a law school reunion."
Thomas J. Perrelli '91, Classmate, Managing Editor Law Review
"If anybody had walked by, they would have assumed he was a professor," said Thomas J. Perrelli, a classmate and former counsel to Attorney General Janet Reno. "He was leading the discussion but he wasn't trying to impose his own perspective on it. He was much more mediating."

At Harvard, [Cassandra] Butts was moot court partners with Tom Perrelli, who first met Obama at the dinner party and served as his managing editor on the Harvard Law Review…. "We have all been friends together and we found a common enterprise through Barack," Perrelli said. 

Perrelli occupied seat 151 of Professor Laurence Tribe's constitutional law class in the fall 1989 semester – just a few feet away from Obama (seat 26), and two others who would prove vital to his ambitions: Julius Genachowski (93) and Michael Froman (103).
Julius Genachowski '91, Classmate and Law Review 
"He wasn't a real righty or a real lefty, so if you cared about the institution and didn't want to spend the next year distracted by infighting, you were comfortable with him," says his friend Julius Genachowski, who was on the law review at the time. "The other thing is that, because he was so different, it didn't diminish anyone to support him." 

"The law review was a powder keg," says Genachowski. "That it didn't explode when we were there—that it ran professionally, despite all the tensions—was not a coincidence. It says something about Barack, and the kind of president he'd be."
Nancy L. McCullough '92, Law Review
Obama was so evenhanded and solicitous in his interactions that fellow students would do impressions of his Socratic chin-stroking approach to everything, even seeking a consensus on popcorn preferences at the movies. "Do you want salt on your popcorn?" one classmate, Nancy L. McCullough, recalled, mimicking his sensitive bass voice. "Do you even want popcorn?"
Rob Fisher '91, Classmate and Law Review
He skipped most parties and made his friends in class, including one good buddy, Rob Fisher, a first-year student from Maryland, whom he met on the first day of classes. Obama called Fisher, who is white, "brother," and teased him about his raggedy clothes. They watched Bulls games . Both idolized Michael Jordan.

At the end of his first year, Obama joined the Law Review. He nearly missed the deadline to apply when his 1984 Toyota Tercel broke down, and begged Fisher for a ride and sweet – talk ed his way to the front of a line at the post office to have his envelope postmarked before noon.

"That's the one modest contribution I've made to his success," Fisher, now a Washington lawyer, said in a recent interview. 
Christine Lee '91, Classmate and Law Review 
March 1990: "He's willing to talk to [the conservatives] and he has a grasp of where they are coming from, which is something a lot of blacks don't have and don't care to have," Christine Lee, a second-year law student who is black.

---
HARVARD LAW SCHOOL CLASSMATES
Andrew Schapiro '91, Classmate
In the winter of 1990, the middle of his second year, with the review preparing to hold the election for its next president, Obama threw his hat in the ring, surprising everyone. "There were people on the review, we used to call them gunners," says Andrew Schapiro, one of Obama's contemporaries there, "because you knew from the minute they walked in to Gannett House that they wanted to be president. But that was not the sense you ever got from Barack."

That becoming the first black president of the Harvard Law Review would be a nice biographical asset in any such race would never have escaped a mind as sharp as Obama's. Schapiro recalls his familiarity with two up-and-coming black politicians, both Rhodes scholars: Mel Reynolds, who would be elected to Congress in 1992, and Kurt Schmoke, who became mayor of Baltimore in 1987. "It struck me that me that Barack might have the same model in mind," Schapiro says. "I got the sense he thought, I'm Barack, I can do that!"
David Dante Troutt '91, Classmate 
David Dante Troutt, a professor at the Rutgers School of Law-Newark, met Obama during their first year at Harvard, where they shared the same class section and cigarette breaks. "We were both skinny and cold and full of tobacco outside the buildings during the Cambridge winters," he said.

"When you're an anxious first-year black student, speaking up in class in that environment was incredibly intimidating," observes David Troutt, one of Obama's classmates and now a professor at Rutgers. "Because your right to be there was being questioned by some of your white peers. A lot of people were content to feel they'd done well by speaking up at all, but being a race person wasn't what they signed up for. They certainly weren't going to raise their hand to speak about an issue that directly reflected their concerns as a black person: to show why the professor was wrong or challenge a comment by a classmate that they thought was racist. They'd simmer about it in their seat, but only a few people would say something. Barack was one of them—we could always count on Barack."

One time, Trout recalls, the discussion turned to a matter of criminal procedure and constitutional rights. "We were talking about an exception in the law allowing police to enter a dwelling under 'exigent circumstances,' which could be pretty broad," he says. "Barack began, as he often did, saying, 'It's my sense…' And he calmly went on to put the issues in context in a way that affirmed the lives of even apparently fleeing black suspects, the dignity of even a modest home, and the way excessive state power can do harm to both. It was very moving, yet sensible. I'm not sure there was a response."
Hill Harper '91, Classmate (Dr. Sheldon Hawkes on the CBS drama television series CSI: NY) 
Basketball was his outlet. He played often at Hemenway, the law school gymnasium, just off Harvard Square. Hill Harper, a classmate and frequent defender, said Obama, who stands about 6 feet 1 inch tall, had a quick first step and could easily sink midrange jump shots. "If there was any knock against Barack, he pulled his socks up a little too high and his shorts were a little too small," Harper said, laughing. "We were just at the beginning of the Michael Jordan era. He more harkened back to the Julius Erving era."

Actor Hill Harper is best known for his role on the CBS drama "CSI: NY," where he plays Dr. Sheldon Hawkes, among other film and television roles. But right now, Harper has taken on another role: parlaying his celebrity status into a campaign for presidential hopeful Barack Obama.

What sets Harper apart from other high-profile Obama endorsers is a 20-year friendship with the candidate, dating back to their years at Harvard Law School. Here, TODAYshow.com talks to the actor about his public support for Obama, the effect of celebrity endorsements and the man behind the public figure.

Q. You've known Barack Obama since your time at Harvard Law School. Why, besides friendship, do you support Obama?

I've known him for almost 20 years — I met him the first week of class. I looked up to him, and not just because he's taller than I am!

He went to law school knowing why he was going. I went straight from undergrad to grad school. He had a sense of gravitas and judgment. I looked up him then and I look up to him now. He gets it right. He's extremely intelligent, extremely pragmatic. That's the kind of leadership we need now. Everything that was great about him at Harvard Law School is still great about him now. Anyone who meets him understands how wonderful a leader he is. [If he gets elected, I believe] he will go down as one of the greatest presidents in history.

Q. How has Obama changed since his Harvard days? What qualities remain the same?

A: He's become more intelligent, more committed to helping people on a larger and larger scale. But he's still the same person. He called me on my birthday right when he was about to speak to 65,000 people, before the Oregon primary. He's a good, genuine person, a good father and husband. What people often don't see is that he has a great sense of humor, a great smile, a great laugh. He loves sports, football, basketball, golf. He loves ESPN SportsCenter — although he doesn't get to watch it much!

CNN Video Interview
Keith Boykin '92, campus diversity movement 
There were rallies, sit-ins, overnight occupations of the dean's office, even a student-propagated discrimination lawsuit; the prominent professor and critical race theorist Derrick Bell resigned over the issue. But Obama was a missing person in these pitched contretemps. "His absence from the leadership was conspicuous," Keith Boykin, one of the prime movers of the campaign, says. "We wanted him to be front and center, because he represented a lot of the points that we were making. But nobody was particularly surprised that he wasn't more involve
I remember Barack Obama as a very strong editor-in-chief of the Harvard Law Review…. He motivated a large group of editors, who were talented, headstrong, and often contentious, to produce what we sincerely believed to be the United States' best scholarly journal in law. His greatest skill lay in defusing conflicts and in encouraging colleagues of his to cooperate with one another, or at least to compromise… Was Barack considered an 'affirmative action baby' by white students or faculty members? It never occurred to me to think of Barack as anything besides the president of the Review, and (as I have said) a very strong one at that. Even back in those days he plainly aspired to a high-profile political career, and the rest of us respected, even admired, him for his ambitions.
---
FACULTYCharles Ogletree '78, Professor
Professor Ogletree taught Michelle Obama '88 in an advocacy workshop and later also got to know Barack Obama when he was a student. 

I marveled at Barack Obama's ability to multi-task even as a young man. He was not only asking probing questions in the classroom, but also eager to challenge bigger, stronger and quicker players in the gymnasium in very competitive games of basketball. It was this ability to navigate the challenges of the classroom and the chaos of the basketball court that caused him to stand alone as a mature, bright, friendly and optimistic young law student.
Martha Minow, Professor
Professor Minow taught Barack Obama in a course on law and society at Harvard Law School and served with him on a national panel examining civic engagement when he served as a state senator. She served as an advisor to his campaign on legal issues and education policy. 

"He had a kind of eloquence and respect from his peers that was really quite remarkable." When he spoke in her class on law and society, "everyone became very attentive and very quiet."

Minow, who'd come to consider Obama a friend rather than just a former student, wound up serving with the then state senator on a national panel examining civic engagement in the late 1990s.

Obama proved just as engaging among the group of 33 distinguished and diverse panelists as he was in her class, Minow recalls.

After listening to him ably summarize everyone's views at one meeting, Minow joined a group of panelists who went up to Obama and asked when he might run for president. He laughed at the idea, prompting many in the group to start calling him "governor." 

Obama's self-confidence and self-possession were immediately apparent. "When he spoke, everyone got quiet and listened, and it was very unusual for that kind of hush to fall," says Martha Minow, a professor of his. "He was a little bit above the conversation. He had a synthetic mind and a capacity to summarize what people said so that they would come out feeling like, Yeah, I was fairly treated."
 David Wilkins '80, Professor
Professor Wilkins taught Michele Obama and also knew Barack Obama as a student – and has supported his political career ever since. Professor Wilkins has served on various committees during the campaign and co-hosted several fundraisers, as well as speaking for the campaign in Pennsylvania, Virginia, Illinois and Massachusetts.

But the senator was still outstanding in his own right—"brilliant, charismatic, and focused," said Wilkins, the Kirkland and Ellis professor of law. The two forged a relationship after Obama became the first African American president of the Harvard Law Review. 

"He talked about how the timing was not exactly what he himself expected, but with a tremendous response from the nation, that this is an important moment and a great opportunity to step forward," Wilkins said. 

He said he advised Obama to become a Supreme Court clerk. Obama recognized the honor in pursuing that post, Wilkins said, but quickly added that he wasn't interested. 

"He said that he wanted to write a book about his life and his father, go back to Chicago, get back into the community, and run for office there. He knew exactly what he wanted and went about getting it done," Wilkins said. "He was the kind of person who you knew was destined for greatness." 
Laurence Tribe, Professor and Supervisor 
March 1990: "He's very unusual, in the sense that other students who might have something approximating his degree of insight are very intimidating to other students or inconsiderate and thoughtless," said Laurence Tribe, a constitutional law professor. "He's able to build upon what other students say and see what's valuable in their comments without belittling them." 

But what truly distinguishes Obama from other bright students at Harvard Law, Tribe said, is his ability to make sense of complex legal arguments and translate them into current social concerns. For example, Tribe said, Obama wrote an insightful research article showing how contrasting views in the abortion debate are a direct result of cultural and sociological differences. 

October 2008: Barack came to see me during his first year at Harvard. It was 31 March 1989. I found my desk calendar and I'd written his name with an exclamation point. From the late 1960s, when I began teaching as a professor at Harvard Law School, until the present, there has been no other student whose name I've noted in that way.

He impressed me from the beginning as an extraordinary young man. He was obviously brilliant, driven and interested in pursuing ideas with a clear sense that his reasons for being in law school were not to climb some corporate ladder, nor simply to broaden his opportunities, but to go back to the community.

He had a combination of intellectual acumen, open-mindedness, resistance to stereotypical thinking and conventional presuppositions. He also had a willingness to change his mind when new evidence appeared, confidence in his own moral compass and a maturity that obviously came from some combination of his upbringing and earlier experience.

I asked him to be my research assistant, a role he filled for a year and a half. We had a much more vibrant dialogue than one typically has with a research assistant. He was witty, he had a lighthearted touch and even though we were dealing with some pretty grave and weighty subjects, it was always a breezy thing to talk to him.

He had a charismatic quality and was very engaging. Other students gravitated towards him and liked him rather than envying him or wanting to compete with him.

Typically in a place as competitive as Harvard or Yale, one student will make a comment and another student will try and one-up him by saying something cleverer or wittier. But Barack would never put anyone else down. If a student expressed a view he didn't agree with, he nevertheless saw the value in it and built on it.

He found points of communality and gave people the sense that he could see where they were coming from, and what their core beliefs were, and why they were worthy of respect. It was really a precursor to the way he engages in dialogue across ideological and partisan divisions.

In his second year, he became the first African American president of the Harvard Law Review [one of the leading law journals in the world]. It was a position which represented the judgment of his peers about his intellectual acumen and his leadership capacities. He emerged with the enthusiastic backing of other students. In no sense was this some kind of affirmative action; he was chosen as the best person people could find.

We used to take long walks on the Charles River in Boston. Our conversations were enormously wide-ranging and enjoyable, about life in general, not just about work. I had no doubt as I got to know him that he had an unlimited future. I didn't have a clear sense of what direction it would take, but I thought it would be political and I thought the sky was the limit.

He had a personal quality which was transcendent and I continued to feel that way about him each time we met. And the quality he demonstrated that I've always been left with more than any other is authenticity. There isn't a fibre of phoniness about this guy.

January 2007: Loeb University Professor Laurence H. Tribe HC '62, who taught Obama and employed him as a research assistant, remembers him as a "brilliant, personable, and obviously unique" person. Tribe said that Obama's theoretical perspective on applying modern physics to law was "very impressive." 

"He is obviously a serious intellectual as well as a fantastic campaigner who can reach across boundaries," Tribe said. "He will make an extraordinarily fine president." 

Fall 2007: In the spring of his first year at law school, Obama stopped by the office of Professor Laurence Tribe HLS '66 inquiring about becoming a research assistant. Tribe rarely hired first-year students but recalls being struck by Obama's unusual combination of intelligence, curiosity and maturity.

He was so impressed, in fact, that he hired Obama on the spot—and wrote his name and phone number on his calendar that day—March 31, 1989—for posterity.

Obama helped research a complicated article Tribe wrote making connections between physics and constitutional law, as well as a book about abortion. The following year, Obama enrolled in Tribe's constitutional law course.

Tribe likes to say he had taught about 4,000 students before Obama and has taught another 4,000 since, yet none has impressed him more.

---
OTHER PEOPLE WHO MET BARACK OBAMA IN THE HARVARD YEARS 
Artur Davis '93, Student
Artur Davis '93 still vividly recalls how much Obama inspired him with a speech he gave during orientation week on striving for excellence and mastery.

Davis, now a United States congressman from Alabama, insists he left that speech by Obama convinced he'd just heard a future Supreme Court justice—or president.
Some students got their first glimpse of Obama, the orator, in the spring of 1991, when the Black Law Students Association broke with tradition and asked him, rather than a renowned judge or professor, to deliver the keynote address at the association's annual conference. Standing before hundreds , Obama gave what classmates recall as a stirring call to action. 

"It was a clarion call," recalled Randall L. Kennedy, a law school professor who attended the conference. "We've gotten this education, we've gotten this great halo, this great career-enhancing benefit. Let's not just feather our nests. Let's go forward and address the many ills that confront our society."
John K. Holmes, Landlord

Obama, who declined to be interviewed for this story, lived all three years in the same basement apartment on
Broadway in Somerville, near Winter Hill. He kept the place spotless and decorated it with second hand furniture. 

"He was a model tenant," said John K. Holmes of Arlington, his landlord. "I can remember when he told me he was leaving, I can remember being disappointed." 

Thomas Jefferson had Monticello. John F. Kennedy had Hyannis. 
Barack Obama, on the other hand, had the basement of 365 Broadway in Somerville, which the

future president rented for $900 a month while attending Harvard Law School from 1988 to 1991.

As the Globe reported in a 2007 profile, Obama lived for all three years of law school in the building near Winter Hill, driving his 1984 Toyota Tercel to class (and picking up the occasional parking ticket).

The 1889 brick rowhouse, meanwhile, is privately owned, and Obama's former landlord, John K. Holmes, said he is also planning to put up a marker at some point.

"He was a very good tenant. He was no trouble. There were no girls or wild parties," Holmes said. "He was very industrious. He had an agenda. He wanted to be successful."

Holmes, who has owned the building since the mid-1970s, said he met Obama after the future president responded to a classified ad in the Globe.

Blair Underwood, Actor

A prankster posted a cast list for a movie version of his life, starring Blair Underwood. When Mr. Underwood visited the school, he questioned Mr. Obama for material for "L.A. Law."

"People were always asking me, do young black attorneys really exist like that?" Mr. Underwood said in a recent interview. "I would refer to Barack." 

Video:

Blair Underwood Supports Obama
The Law Review staff's annual parody edition,

 distributed at the annual gala banquet marking the transition to the new year's roster of editors. Typically written by a small group of HLR editors, the Revue is filled with with inside jokes and satirizes the year's authors, articles, editors, and professors of the Harvard Law Review. 



Entire Issue, in larger format
---
Harvard Black Law Students Association Annual Conference
In the spring of 1991, Obama was invited by the Harvard Black Law Students Association to address its annual conference. The invitation marked a departure from tradition; normally, it was extended to a heavyweight judge or legal scholar. But Obama was already hurtling down the path to prominence. His appointment as law review president had created a welter of national media attention. Now, at the conference, Obama delivered a speech whose themes echoed W.E.B. Du Bois, calling on his audience to be ever-mindful of where they came from and the obligations to their communities that a Harvard education entailed. Again and again, his voice rising, Obama repeated one refrain: "Don't let Harvard change you!"
---
Sidley & Austin, 1989
1989 — summer associate, Sidley & Austin — After his first year of law school Obama was a summer associate for one of the world's oldest and largest law firms, where he met Michelle Robinson, his future wife.
"We congratulate our former colleagues, Barack and Michelle Obama, on the Senator's election as President of the United States.  We also congratulate Senator McCain for his well-fought campaign and are inspired by his decades of service to his country.  The President-elect received the support of many individuals at our firm — as did Senator McCain.  We wish President-elect Obama all the best as he begins the transition and takes the reins of government in these challenging times."
Hopkins & Sutter, 1990 (Now Foley and Lardner): 
1990 — summer associate. Obama held this job the summer between his second and third years of law school.
The Chicago Reporter: Issue 221; July, 1990
"It's common knowledge that a lot of lawyers are unhappy with their profession," said Barack Obama, a summer associate at Hopkins & Sutter and the first black to head the Harvard Law Review. "The difficulties end up, inevitably, being magnified for young minorities, either because they don't have support networks or because their abilities may be questioned due to racism. They feel under the gun."
The Chicago Reporter: Issue 221; July, 1990
Top Student: What Kind of Minorities Do Firms Want?
The last thing that Barack Obama will have to worry about next year when he graduates is job offers. Obama finished his second year at Harvard Law School this spring and has been elected to lead the Harvard Law Review, a prestigious position traditionally reserved for a top student.
"It's a great time to be a young black law school graduate – if you're from Harvard and in the top quarter of your class," said Obama. "But the point is that there are a lot of talented young minorities who may not have been able to go to the top schools. For example, a lot of minorities go to state schools due to financial constraints.
"Until the minorities who are going to the good but not the most prestigious schools, those who are doing a good job, who are highly competent and have the intelligence and the energy to do terrific work – until those people are looked at and hired in significant numbers – I think you are going to continue to have serious recruitment and retention problems."
Before going to law school, Obama spent four years in Chicago, working at the Developing Communities Project on the South Side. Currently, he is a summer associate at the firm of Hopkins & Sutter in Chicago. Last summer he worked at Sidley & Austin.
"Certainly, a lot of large firms are interested in hiring more minorities," he said. "The issue you confront is: What kind of minorities are the firms looking for? I certainly wouldn't have a hard time finding a job in Chicago. I have all the right credentials."
Even firms that are making an effort to recruit minorities – and there still are not many of them, Obama said – are reluctant to take a chance on students who do not have the top credentials. It has been said, Obama noted, that it may be time to ask if minorities are getting the same right to be "mediocre" as white males.
---
Previous Page: Occidental College and Columbia University                                Next Page: After Harvard