I have a personal beef with Tucker that goes back 25 years, he did something to cause me problems and it was just a spiteful, stupid thing for him to do. All I want to say about it. That's his MO with that stupid look on his face all the time.
https://twitter.com/peltzmadeline/statu ... 1645045760
This week is Faux News' upfronts (for advertisers), this should be rich. There's a protest tomorrow morning if you're around NYC:
Wednesday, outside Fox News HQ in NYC, 11 AM:
https://www.facebook.com/events/2363165330382202/
…
https://twitter.com/JordanUhl/status/11 ... 3412057089
https://twitter.com/mmfa/status/1105279163974516737
This is from Media Matters and they are fine with reprints, they want the info out there:
Fox's week from hell

The network hopes advertising executives have been ignoring the headlines

Blog ››› 5 hours 55 min ago ››› MATT GERTZ

Madison Avenue advertising executives are scheduled to visit Fox News' studio on Wednesday for an event unique in the right-wing network's history: an emergency pitch to major media buyers that they should not abandon the network. It's been a brutal few years for Fox's advertiser relations, as numerous blue-chip companies have pulled their ads from the programs of star hosts Tucker Carlson, Sean Hannity, and Laura Ingraham in light of their bigoted and unhinged commentary. Fox's executives have responded by trying to stem these losses with a public relations effort refocusing attention on the network's "news" side anchors like Chris Wallace and Bret Baier, whom they argue are adept journalists. This week's sit-down will make that case to the advertising industry, with Fox arguing that its controversies are behind it and media buyers shouldn't be afraid to advertise on the network, particularly on Fox's "news" programs.

This argument is deeply flawed. Fox's business model is built around its vitriolic right-wing hosts, who use rage and fear to stir up their audience and keep them coming back for more. As long as that is the case, the network's advertisers will find themselves in the center of a constant stream of controversies whenever the extremism and bigotry of Fox stars become apparent to anyone outside of their viewers. And Fox can't cordon off its "news" side from its "opinion" stars -- the former play a key role in bolstering the propaganda machine built around the latter.

Given that Fox is asking the advertising industry to kindly ignore the bile coming out of the mouths of the network's most famous personalities, Fox's executives were likely hoping for at least a quiet PR week leading into the meeting to help them make their case. It hasn't worked out that way. Instead, Fox has suffered the week from hell, with its propaganda and bigotry triggering an escalating series of brutal headlines that lay bare the rot at the heart of the network. And the network's fumbling efforts to staunch its nightmarish, self-inflicted wounds only make the situation worse.

The week began with an 11,000-word reported piece in the nation's pre-eminent news magazine by one of its most celebrated reporters detailing the network's effective merger with President Donald Trump's White House and its emergence as a "state TV" apparatus supporting his administration. Jane Mayer's New Yorker piece wedded damning new details of journalistic malfeasance to first-rate storytelling, providing readers with a horrifying picture of Fox operations diametrically opposed to the one that the network's executives try to paint.

Mayer's story had legs. For several days, the story was a major topic of debate throughout the media. On Thursday, Democratic National Committee Chairman Tom Perez cited it in announcing that the party would not partner with Fox for a presidential primary debate, preventing Fox executives from being able to crow that its "news" side is considered as credible as any other, rather than an essential cog in a corrupt machine. By Saturday, CNN President Jeff Zucker was openly describing Fox as "propaganda" and arguing that its journalists "work at a place that has done tremendous damage to this country."

In its effort to shape Mayer's story and its response to criticism following the article's publication, Fox's PR team sought to focus attention on the efforts of its news side. After the DNC severely damaged that argument by rejecting the network's pitch for a primary debate, some of those very same news-side personalities went on the attack, accusing critics of "Fox derangement syndrome."

The weekend brought no respite for Fox.

Media Matters @mmfa

Fox's Jeanine Pirro says Rep. Omar's hijab may mean that she's against the Constitution

http://mm4a.org/4X2

10:41 AM - Mar 10, 2019

On Saturday night, Fox host Jeanine Pirro responded to the controversy surrounding Rep. Ilhan Omar's (D-MN) use of anti-Semitic tropes with a monologue steeped in unhinged Islamophobic bigotry. Pirro suggested that Omar's comments were rooted in her identity as a practicing Muslim. "Think about it: Omar wears a hijab," Pirro said. "Is her adherence to this Islamic doctrine indicative of her adherence to Sharia law, which in itself is antithetical to the United States Constitution?" Pirro's remarks triggered an immediate outcry, with commentators on the right and left pointing out that they were disgraceful and un-American.

More than 24 hours later, Fox finally responded, issuing a statement with no name attached saying that the network "strongly condemns" the comments and that "we have addressed the matter with [Pirro] directly." The network has repeatedly used the "addressed the matter" construction over the years when trying to make problematic stories go away. Fox made no mention of any other sanctions against its host, and if she received any sort of stern talking-to, it obviously had no effect, as Fox's release also included a statement from Pirro in which she did not apologize, express remorse, or say that it wouldn't happen again.

By the time Fox's PR team finally got around to acknowledging their Pirro problem, they were already fielding questions about an impending Carlson crisis. On Sunday night, Media Matters released a series of clips featuring the Fox host using sexist, misogynistic, and perverted language about women and young girls -- including defenses of statutory rape -- during regular appearances on a shock jock's radio show between 2006 and 2011 (Fox hired Carlson in 2009). Carlson's show hemorrhaged advertisers last year due to his frequent use of white nationalist rhetoric.

Carlson's remarks are disgusting. But as The Washington Post's Erik Wemple points out, Fox can't express shock over them because they are also entirely consistent with Carlson's commentary, before and after he joined Fox, on its airwaves and off of them.

And so far, Fox is publicly expressing … nothing. The network has not commented at all despite a burgeoning firestorm in response to Carlson's remarks. So far, the network has let its host speak for himself, allowing Carlson to issue a statement on Sunday night in which he lied about what he did and sneered at the notion that he might "express the usual ritual contrition." Then on Monday night, he devoted his opening monologue to lashing out at the "outrage machine" of his critics and declaring that "we will never bow to the mob." Perhaps boxing in his employer, he also claimed that "Fox News is behind us" (Wemple subsequently confirmed with Fox PR that was the case). Minutes later, Media Matters released a second set of clips from Carlson's shock jock interviews, these dealing with Carlson's racist commentary, including references to Iraqis as "semiliterate primitive monkeys" who "don't use toilet paper or forks."

Those are just the major stories that have battered Fox over the last week. Then there are the ones that might cause a PR crisis somewhere else, but are sadly typical for the network: The host who mixes up two Black interviewers; the regular guest who calls for Trump to use the National Guard to break up protests on college campuses; the network personality's report that she was sexually harassed by Fox founder Roger Ailes; our Fox-obsessed president tweeting misquotes from the network's programming to burnish his economic record; a host using the language of white nationalists to criticize Democrats about immigration; a former network co-president, still drawing a salary from the network, forced to resign from his job overseeing Trump's communications.

Some of these stories were shocking. But if you've been paying attention to Fox in recent years, none of them was surprising. Pro-Trump propaganda, anti-Muslim hate, and misogynistic commentary have all been not just tolerated but rewarded by the network for years. And that's the danger for Fox advertisers and media buyers who recommend placing ads on the network -- they have no plausible deniability whatsoever. A new round of headlines just as bad, about conduct just as deplorable, is always just around the corner.

What may prove particularly unnerving for advertisers is Fox's unwillingness to take real action in response to these rolling PR crises. And this shows the connection between the three major stories that hit the network over the past week: Pirro and Carlson are effectively protected by Fox's status as a pro-Trump propaganda outlet. Fox executives may issue an unsigned statement criticizing Pirro's remarks, but it's difficult to imagine them pushing for accountability from a close friend and sometime adviser to a president who watches her show each week. The same goes for Carlson, whose commentary Trump loves and whose show the president often tweets about. And again, this sort of unhinged and extreme rhetoric is what keeps Fox's audience loyal.

Fox is desperately trying to shore up its relationships with advertisers precisely because of this dynamic. At any other news organization, one could expect this level of vitriol to trigger some type of accountability. But at Fox, with few exceptions that almost always feature low-profile commentators, this simply does not happen.

And with Fox unwilling to act, activists who hope to actually impact the network's programming have little recourse except to the network's advertisers, creating the blowback that Fox's Wednesday meeting seeks to heal.
https://www.mediamatters.org/blog/2019/ ... ell/223103
I agree about this:
https://twitter.com/gaywonk/status/1105334286411018240
These latest comments are having an impact, I know we're talking about this in other topics, but between the boycott and the just insane and ridiculous things he says, to huge ratings at Faux News, I'd like to call attention to sponsors who boycott this idiot. Let's see how far Faux will support him, they just found more from 2017:
https://twitter.com/brianstelter/status ... 6182578177
https://twitter.com/keconlan/status/1105568761673732096
Jeremy Barr Verified account @jeremymbarr
NEW - SHEEX, one of Tucker Carlson's biggest and most reliable advertisers, is pulling out "due to the inappropriate statements ... that have recently come to light"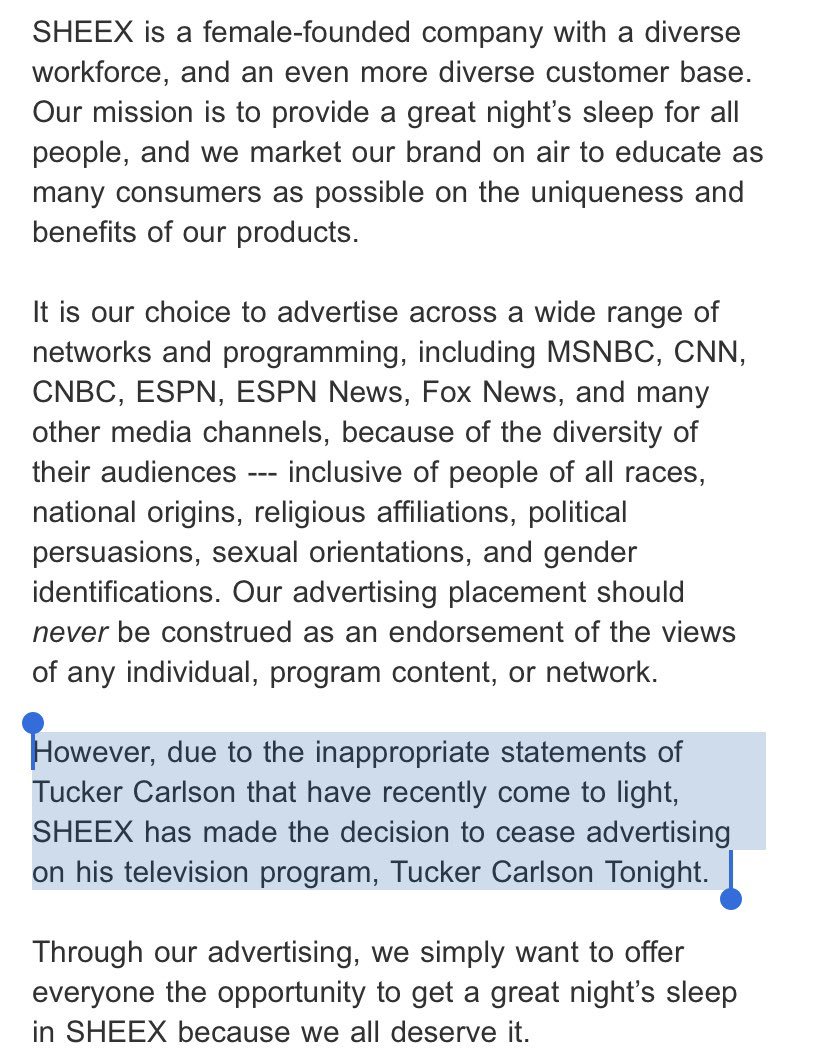 https://twitter.com/slpng_giants/status ... 3532941312
ThinkProgress update on the boycotts:
Here are the companies advertising on Tucker Carlson and Jeanine Pirro's shows

A few, like Allergan, letgo, and GreatCall, say they will no longer run ads on the programs.

JOSH ISRAEL MAR 12, 2019, 9:16 AM

UPDATED: MAR 12, 2019, 12:23 PM

***

ThinkProgress reviewed the commercials from Saturday's episode of Justice with Judge Jeanine, as well as its late night rerun. It also examined the advertisers on Friday's episode of Tucker Carlson Tonight. Each of the 60 companies that aired commercials during those hours were contacted to ask whether they would continue advertising on the two shows, in light of the controversy.

Allergan was the first to respond in the affirmative, with a spokesperson stating in an email that the company would "not be advertising on [Justice with Judge Jeanine] moving forward." The company's ad for Botox Cosmetic had aired during Saturday's show.

A spokesperson for GreatCall, which sells mobile technology and services for seniors and ran a spot for its Jitterbug Flip phone during Pirro's re-broadcast, also said they have pulled advertising from the show.

A letgo spokesperson said in an email that it would also cease advertising on her program, writing, "We absolutely condemn Ms. Pirro's comments, which are offensive and completely contrary to our values. We are in the process of ensuring our ads will no longer run during her show."

Asked about an ad on Pirro's show for its Ozempic insulin brand, a spokesperson for Novo Nordisk responded, "We advertise across many cable networks to raise awareness of our medicines and the disease they treat. We respect each person's right to express their thinking and beliefs, however, we are reevaluating our advertising on this program at this time."

However, others have insisted they will continue marketing their products on the two shows, despite the controversies.

"I am not changing my advertising," MyPillow CEO Mike Lindell said in an emailed statement. "I make all of my advertising decisions based on what is best for MyPillow, my customers and my employees." MyPillow ads air frequently on both programs.

A spokesperson for Mitsubishi Motors North America, which advertised during Pirro's show, also said they would not commit to changing the company's ad buys.

"Our advertising media spend is determined based on demographics and psychographics, not politics. Our strategic marketing intent is to share our key product news with consumers through a variety of media channels. We will monitor the situation and adjust our advertising if necessary."

A spokesperson for WeatherTech, which also advertised on Pirro's show this weekend, responded similarly on Monday, saying the company "places its advertising according demographics that most fit the target consumer market for our automotive and pet accessory products."

"The content of those shows maybe opinion based and in America to have an opinion is a constitutional right," they said. "As we are an American based company, who employs 1500+ American workers and, whenever possible, uses American sourced raw materials we respect the rights stated in the U.S. Constitution."

A spokesperson for Wells Fargo, which aired an ad during Justice with Judge Jeanine, told ThinkProgress the company has "a process in place to prevent our advertising from showing up in a variety of inappropriate types of content. A cornerstone of that process is using a leading third party technology to continually monitor and/or block those ad placements."

While the company said it welcomes public input about "instances in which our advertising may appear in those environments," it did not share whether it would pull its ads in this case.

Zona Plus also refused to comment on its advertising on Pirro's show.

Other companies running ads that did not immediately respond to ThinkProgress inquiries included:

4imprint.com (Pirro)

ADT (Pirro)

All-State, for its Esurance (Pirro)

Amazon Prime, for its new show The Widow (Pirro)

Ancestry.com (Pirro)

Arby's (Pirro)

Aspen Dental (Pirro and Carlson)

Association of American Railroads (Carlson)

Bayer, for Miralax, Bayer, Alka Seltzer, and Dr. Scholl's (Pirro and Carlson)

Cadillac (Pirro and Carlson)

Carvana (Pirro)

Celgene for Otezla (Pirro)

Chattam/Sanfoi for Gold Bond and Act (Pirro)

Checkers/Rally's (Carlson)

Church & Dwight for Kaboom (Pirro)

Clear (Pirro)

Custom Ink (Pirro)

Del Webb.com (Carlson)

Ebates (Pirro)

EliteSingles.com (Carlson)

Gillette (Pirro)

Golden Coral (Pirro)

GSK for Gas-X (Pirro)

Intuit Quickbooks (Pirro)

Jenny Craig (Carlson)

Just For Men for its ControlGX (Pirro)

KAYAK (Pirro)

Knightline Legal (Pirro)

Liberty Mutual (Pirro)

MedStar Health (Pirro)

Midas (Pirro)

Miracle-Ear (Carlson)

Nature's Bounty (Pirro)

Navy Federal Credit Union (Pirro)

New Vitality for SuperBeta and AgelessMale (Pirro and Carlson)

NFL Network (Pirro)

People Media for OurTime.com (Pirro)

PhRMA (Carlson)

Pods.com (Pirro and Carlson)

Proctor & Gamble for Crest (Pirro)

Qunol (Pirro)

Rakuten (Pirro)

Recovery Centers of America (Pirro)

Ruby Tuesday (Pirro)

Samsung Galaxy (Pirro and Carlson)

Sandals (Pirro)

SmartMouth.com (Carlson)

Toyota for Lexus and Toyota (Pirro)

Trivago (Pirro)

USAA (Carlson)

Volvo (Pirro)

Some companies have previously suggested they might reconsider advertising on Carlson's show. In December, after Carlson claimed immigrants were making America dirtier, Samsung representatives told The Hollywood Reporter that the company did not have "any advertising planned at this time, for this program."

The company, however, ran ads for its Galaxy phones on both programs over the weekend.

This story will be updated as additional companies respond.
https://thinkprogress.org/companies-adv ... fe90458cc/
So there's a current roundup. Tomorrow's protest and ad meeting should be interesting. While Tucker was laughing off his awful comments as "old news", they've found more from just a few years ago. Nice way to represent the network, Tuck.