Ali Alexander is part of the Cernovich troll pack, this is what makes that group so dangerous. His Twitter:
https://twitter.com/ali
He was in Fort Lauderdale during the recount and with Laura Loomer in MN. He's already trying to discredit calling it "Birtherism 2.0" when that's exactly what it is. He's a greasy little criminal pol. Here we go.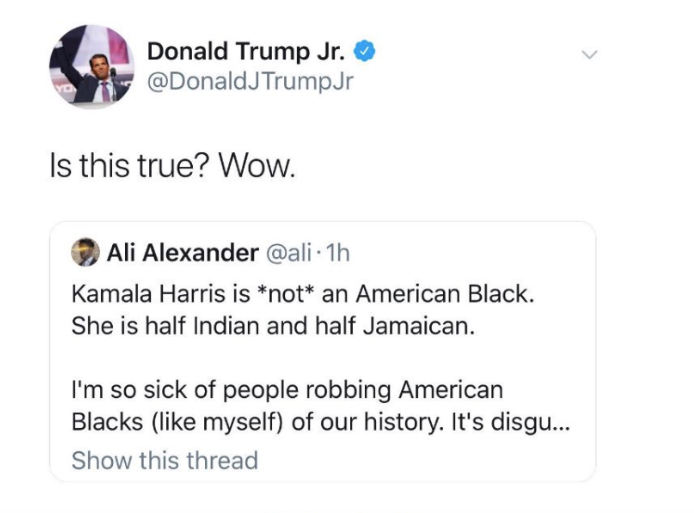 Chilling New Birtherism Slam Suddenly Surges Against Kamala Harris On Social Media

Racist tweets claim the senator doesn't represent American blacks because her dad's from Jamaica.

By Mary Papenfuss

A new iteration of Donald Trump's racist and fallacious "birtherism" attack on former President Barack Obama is suddenly surging on social media, this time against Sen. Kamala Harris (D-Calif.). The apparently bot-aided onslaught is claiming the senator doesn't represent U.S. blacks because her father was born in Jamaica. Harris, an American of both Jamaican and Indian descent, was born in Oakland, California.

Donald Trump Jr. retweeted the original attack but later deleted it. Meanwhile, the president's former campaign spokeswoman Katrina Pierson tried to discredit Harris another way, indicating she is not African enough to run as a minority presidential candidate. She tweeted that "while Obama is actually African-American — Harris is not," even though people of African descent have lived in Jamaica for centuries. The slam appeared Thursday night shortly after the Democratic presidential debate, where Harris had powerfully raised her own experiences being bused as a child in California to battle school desegregation.

The attack appeared to be launched by a self-described "black activist" identifying himself as "Ali Alexander" on an unverified Twitter account. He claimed in a video and tweet that Harris cannot represent the black experience in America because she has "no ancestors who suffered American Slavery, the Civil War, nor Jim Crow." Alexander is actually a far-right political operative and conspiracy theorist Ali Akbar, or Ali Abdul Razaq Akbar, whom Politico profiled last year as an "increasingly prominent pro-Trump supporter." On the eve of the 2016 election, Robert Mercer donated $60,000 to a PAC that Alexander advises, Politico reported.

https://observer.com/2018/10/robert-mer ... alexander/

Akbar, posing as Alexander, boasted that his tweets "went viral." In fact, his message was nearly instantaneously picked up word for word and disseminated by several Twitter accounts that have been identified as bots, BuzzFeed reported. Social media researcher Caroline Orr pointed out that the original tweet also drew in other attacks falsely claiming Harris wasn't born in the U.S.
***
Donald Trump Jr. Shares, Then Deletes, a Tweet Questioning Kamala Harris's Race

Donald Trump Jr. is a valuable Republican surrogate as his father heads into the 2020 race.

The New York Times By Katie Rogers and Maggie Haberman June 28, 2019

WASHINGTON — Donald Trump Jr., the president's eldest son, shared another person's tweet with his millions of followers during the Democratic debate on Thursday that falsely claimed Senator Kamala Harris was not black enough to be discussing the plight of black Americans. "Kamala Harris is implying she is descended from American Black Slaves," Ali Alexander, a member of a right-wing constellation of media personalities, wrote on Twitter. "She's not. She comes from Jamaican Slave Owners. That's fine. She's not an American Black. Period."

Mr. Trump, a valuable Republican surrogate as his father faces a bruising 2020 race, posted the tweet of unverified information, then asked his more than three million followers: "Is this true? Wow." By the end of the night, Mr. Trump had deleted his message, and by Friday, a spokesman said it had all been a misunderstanding. "Don's tweet was simply him asking if it was true that Kamala Harris was half-Indian because it's not something he had ever heard before," said the spokesman, Andy Surabian, "and once he saw that folks were misconstruing the intent of his tweet, he quickly deleted it."

But by then, the original message, questioning the background of a presidential candidate who is of Indian and Jamaican descent, had already spread far and wide. For people like Mr. Alexander — an alt-right fringe figure who has also gone by the name Ali Akbar — the entire point of commenting was to go viral and counteract any progress made by a Democrat like Ms. Harris. She caught Joseph R. Biden Jr., the presumed front-runner, off guard on Thursday night by questioning his track record on race.

Because his tweet was elevated by valuable surrogates like the president's son, Mr. Alexander has become part of a loose network of accounts weaponized by the Trump campaign as part of its effort to discredit candidates. The facts are these: Ms. Harris, a first-term senator from California and a former prosecutor, is the biracial daughter of a Jamaican father and Indian mother. She has faced repeated questions about her race throughout her career, but has at times resisted being put into one category or another. In an interview with The Washington Post this year, Ms. Harris called herself "an American," defying calls at various points for her to choose. "My point was: I am who I am," Ms. Harris said at the time. "I'm good with it. You might need to figure it out, but I'm fine with it."

***

Her impassioned embrace of her personal history was what Mr. Alexander and then Mr. Trump pounced on. By the end of the evening, even though Mr. Trump had deleted his tweet, a round of accounts began sharing the contents of Mr. Alexander's tweet questioning Ms. Harris's background.

The President's son earlier this hour. pic.twitter.com/ejPI9urFw6
— Ben Collins (@oneunderscore__) June 28, 2019

This activity caught the attention of Caroline Orr, a Virginia-based researcher who studies disinformation and elections. Mr. Alexander is a real person, but Ms. Orr hinted that the activity may have been the work of Twitter bots meant to spread his misinformation.

What a weird coincidence that a group of accounts, starting with Ali, decided to tweet the exact same thing (verbatim) about Kamala Harris within minutes of each other tonight. #DemDebate2 pic.twitter.com/2lxFSJTd77
— Caroline Orr (@RVAwonk) June 28, 2019

"A lot of suspect accounts are pushing the 'Kamala Harris is not Black' narrative tonight," Ms. Orr wrote on Twitter. "It's everywhere and it has all the signs of being a coordinated/artificial operation." On Friday, Mr. Alexander denied that his tweet had been part of an organized effort to spread that message at all, and he has characterized as racist inquiries into what he meant by his original tweet.

Lily Adams, an aide to Ms. Harris, on Friday criticized Mr. Trump's tweet. "This is the same type of racist attack his father used to attack Barack Obama," she said. "It didn't work then and it won't work now." Mr. Trump, for his part, had moved on: He sent a fund-raising text message to followers of the Trump campaign.
https://www.nytimes.com/2019/06/28/us/p ... arris.html
Ali hates having his mugshots shared.
Haven't settled on a candidate but it doesn't matter, this is wrong. Of everyone on the internet, Fogbow members know how best to challenge these racist falsehoods. Looks like a Donald is doing it again, all hands on deck.



ETA: Thanks Stern! Sorry about the misspelling.