Mem­o­ries of Barack Oba­ma: THE COLLEGE YEARS
Birthers claim that no one from Barack Oba­ma's past has come for­ward say­ing they knew him. Who were his room­mates? No one remem­bers him in class. No pro­fes­sors remem­ber him. Peo­ple knew him under dif­fer­ent names. He went to col­lege as a for­eign stu­dent, Bar­ry Sore­toro. He nev­er wrote any­thing. No one has pic­tures. He nev­er real­ly went to col­lege.

Like every­thing else Birther, this meme is eas­i­ly debunked.
Cal­i­for­nia: Occi­den­tal Col­lege
New York: Colum­bia Uni­ver­si­ty
Pre­vi­ous Page: Birth to High School Next Page: First Jobs and Har­vard Law School
---
PUBLICATIONS
Poems in the Spring 1981 issue of Occi­den­tal's for­mer lit­er­ary mag­a­zine Feast doc­u­ment the lit­er­ary ambi­tions of alum­nus and Pres­i­den­tial can­di­date Barack Oba­ma.
Reviews: New York­er, The Occi­den­tal Week­ly, Library of Con­gress
VIDEO:
Inter­views with Occi­den­tal Col­lege fac­ul­ty and for­mer stu­dents:
Oba­ma's awak­en­ing at Occi­den­tal (Boston.com)(YouTube)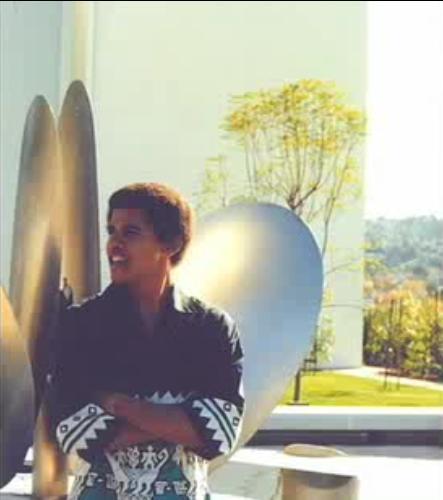 ---
OFFICIAL SOURCES: Occi­den­tal Col­lege
Barack Oba­ma attend­ed Occi­den­tal Col­lege from fall 1979 through spring 1981 and then trans­ferred to Colum­bia Uni­ver­si­ty in New York. He is not a grad­u­ate of Occi­den­tal; how­ev­er, the Occi­den­tal Col­lege Alum­ni Asso­ci­a­tion bylaws state that any­one who com­pletes at least eight cours­es of under­grad­u­ate work (or a year of grad­u­ate stud­ies) is eli­gi­ble for alum­ni sta­tus when their class grad­u­ates. From the Occi­den­tal Col­lege Web Site.

Barack Walk: Direc­tor of Com­mu­ni­ca­tions Jim Tran­qua­da, vet­er­an of scores ofObama/Oxy media calls, leads you on a short tour of the Occi­den­tal cam­pus Pres­i­dent Barack Oba­ma '83 knew. Find out where he lived fresh­man year, where he made his first polit­i­cal speech, whether he real­ly played JV bas­ket­ball, and how Oxy has become an inter­na­tion­al tourist attrac­tion. Tour­go­ers will meet at the Reg­is­tra­tion canopy in the Quad. Added 6/16/2012

---
FELLOW STUDENTS
Lisa Jack, Class­mate and Pho­tog­ra­ph­er
Her life and Oba­ma's inter­sect­ed at the Cool­er, a cam­pus snack shop.

The young woman from Rye, N.Y., loved her psy­chol­o­gy cours­es but cared enough about pho­tog­ra­phy to find men­tors on the fac­ul­ty who tutored her in inde­pen­dent study cours­es. With a blan­ket thrown over the couch she recalls as "a plaid hor­ri­ble thing," the liv­ing room of the apart­ment she shared in a non­de­script quadru­plex near the cam­pus in Eagle Rock became Jack­'s makeshift pho­to stu­dio. Stu­dents from her cir­cle of friends and acquain­tances would pose for por­traits that she would hand in as her week­ly assign­ments.

That day a friend was telling her about a stu­dent named Bar­ry she ought to pho­to­graph "because he's so cute." Moments lat­er, the man him­self walked in. He agreed to the shoot.

There was noth­ing out of the ordi­nary about the ses­sion, Jack says, although it impressed her that Oba­ma had tak­en the ini­tia­tive to bring the big, band­ed hat, a leather, bomber-style jack­et with a fur col­lar and cig­a­rettes as grist for her lens. "He obvi­ous­ly thought about how he want­ed to have his pic­ture tak­en." Oba­ma shared at least one char­ac­ter­is­tic with the oth­er stu­dents who sat for her por­traits: "I think the thing that every­body was try­ing to por­tray the most was how cool they were."

"It's excit­ing to see some­one I went to col­lege with become Pres­i­dent of the Unit­ed States of Amer­i­ca, espe­cial­ly some­one who was so gen­uine­ly nice and sin­cere. I would be lying if I were to say I knew him well; but like so many of us in this coun­try, he has had a pro­found impact on me. I feel hon­ored to have known him and to have been the "keep­er of the pho­tos from such a long time ago".
Sime­on Heninger, Dorm Neigh­bor
"When he sur­faced as this nation­al fig­ure, I can only remem­ber him wear­ing O.P. shorts and flip-flops," said Sime­on Heninger, who lived near Oba­ma in the dorm.

"He was­n't talk­ing about becom­ing the leader of the free world. "He was talk­ing about, I felt, being a respon­si­ble cit­i­zen. A lot of us were like that at Oxy. You were kind of turned on to doing some­thing with your life."
John Boy­er, Dorm Neigh­bor
John Boy­er, a skin can­cer sur­geon in Hon­olu­lu, fond­ly recalled evenings dri­ving around L.A. and shar­ing piz­za near cam­pus. Boy­er described him­self as con­ser­v­a­tive polit­i­cal­ly and opposed to some of Oba­ma's posi­tions, but added, "What I admired about him then and now is that he is a very prin­ci­pled per­son in how he for­mu­lat­ed his views."

"When he talked, it was an E. F. Hut­ton moment: peo­ple lis­tened. He would point out the neg­a­tives of a pol­i­cy and its con­se­quences and illu­mi­nate the com­plex­i­ties of an issue the way oth­ers could not." He added, "He has a great sense of humor and could defuse an argu­ment."

Boy­er added, "Bar­ry would kind of hang back, and there would be some less sophis­ti­cat­ed peo­ple who would be yelling their point of view or argu­ment. And Bar­ry would kind of come in and just kind of part the waters. He would bring clar­i­ty that would address both sides of the argu­ment and sub­stan­ti­ate his point."
Ken Sulz­er, Dorm neigh­bor
Dorm neigh­bor Ken Sulz­er, now a lawyer in Cen­tu­ry City, remem­bers Haines Hal­l's loud sound­track of New Wave bands like the Fly­ing Lizards. Hall­way debates tack­led the Sovi­et inva­sion of Afghanistan and Pres­i­dent Carter's sub­se­quent revival of draft reg­is­tra­tion.

Oba­ma "did not impose his per­son­al­i­ty but cer­tain­ly was well-respect­ed among his peers and always had that great voice, even when he was 17, 18," Sulz­er said.

In [Pro­fes­sor] Boesche's Euro­pean pol­i­tics class, Sulz­er said he was impressed at how few notes Oba­ma took. "Where I had five pages, Bar­ry had prob­a­bly a para­graph of the pithi­est, tight­est prose you'd ever see.… It was very short, very sweet. Obvi­ous­ly some­body almost Clin­tonesque in being able to sum a whole lot of con­cepts and place them into a suc­cinct writ­ten style."

"Oba­ma and I were walk­ing back to the dorm and — lis­ten, I was a year old­er and I thought I was a pret­ty smart guy — so I say, 'I got an A, Bar­ry, what'd you get?' And he kind of wouldn't tell me and just tried to change the sub­ject in his low-key cool way. So I grabbed his paper out of his hand — and he'd got­ten an A‑plus. That's when it hit me just how bright he was."

Par­sons said Oba­ma was trou­bled, for exam­ple, by the way black stu­dents clung togeth­er. "I remem­ber talk­ing about the vicious cir­cle between self-seg­re­ga­tion and seg­re­ga­tion imposed upon you," Par­sons said. "I could tell that both­ered him."
Paul Car­pen­ter, Fresh­man Room­mate
Car­pen­ter recalled Oba­ma as "a good body­surfer" who had "a funky red car, a Fiat," and who also played intra­mu­rals — flag foot­ball, ten­nis and water polo. "He was an ath­let­ic guy. He was gift­ed in that regard," said Car­pen­ter. He also remem­bered Oba­ma being "super bright. He could get through the course work in a frac­tion of the time it took me."

But Oba­ma had friends from many dif­fer­ent back­grounds. Oth­er friends at Occi­den­tal, includ­ing his fresh­man room­mate, Paul Car­pen­ter, nev­er heard Oba­ma called Barack at all. At times, he was still ask­ing to be called Bar­ry.
Hasan Chan­doo, Sopho­more Room­mate
"Barack was a book­worm," says Hasan Chan­doo '81, a finan­cial con­sul­tant in New York and Obama's room­mate dur­ing his sopho­more year at Oxy. "He had to quit bas­ket­ball to con­cen­trate on his school work." Chan­doo notes that Oba­ma first became politi­cized at Occi­den­tal, where the two became involved in the anti-apartheid move­ment and attend­ed ral­lies for caus­es like Cit­i­zens in Sol­i­dar­i­ty with the Peo­ple of El Sal­vador (CISPES). "He could have made a lot of mon­ey, become an invest­ment banker. But it was clear that he was tak­en with pol­i­tics. He was always read­ing a book like Ralph Ellison's Invis­i­ble Man, and it took over his life."
Vinai Thum­ma­la­pal­ly, Room­mate 1979–1980
Vinai Thum­ma­la­pal­ly … remem­bered him as a mod­el of mod­er­a­tion — jog­ging in the morn­ing, play­ing pick­up bas­ket­ball at the gym, hit­ting the books and social­iz­ing.

"If some­one passed him a joint, he would take a drag. We'd smoke or have one extra beer, but he would not even do as much as oth­er peo­ple on cam­pus," recount­ed Mr. Thum­ma­la­pal­ly, an Oba­ma fund-rais­er. "He was not even close to being a par­ty ani­mal."
Barbara Thum­ma­la­pal­ly, Girl­friend (and lat­er wife) of For­mer Room­mate
The cou­ple often get asked what Oba­ma was like in col­lege. Easy. He was Bar­ry, the mel­low guy in the leather jack­et, drag­ging on a cig­a­rette.

"The leather jack­et he wore for years. The leather jack­et, that's exact­ly him," Bar­bara says. "He would be sit­ting there smok­ing quite a bit in those days."

Their close-knit cir­cle of inter­na­tion­al stu­dents hard­ly rat­ed as par­ty ani­mals. "There were about six of us. We'd go to Venice Beach to see all the crazy peo­ple. We'd have all these great polit­i­cal dis­cus­sions about what­ev­er the lat­est thing was."

Hav­ing a good time did­n't inter­fere with Oba­ma's aca­d­e­mics. "It was so typ­i­cal that he could just go and type out this amaz­ing paper and do well after hav­ing par­tied all night, hav­ing drinks, beer or what­ev­er we do at col­lege," she says.

Oba­ma some­times drove her to class. "He'd sit there low in his seat, he played cool music."
I met him in 1979, when we were fresh­men at Occi­den­tal Col­lege (Oxy) in Los Ange­les and our dorm rooms were direct­ly oppo­site each oth­er.

I came to col­lege as a mid­dle-class guy from Bethes­da, Md., where I'd lived from fifth grade through high school. At Oxy, we attend­ed some of the same social events and had late-night philo­soph­i­cal dis­cus­sions relat­ed to our col­lege read­ing or to cur­rent affairs. We attend­ed ral­lies on cam­pus where we were urged to "draft beer, not peo­ple," and dis­cussed the Sovi­et inva­sion of Afghanistan, apartheid in South Africa, the hostages in Iran and the Con­tras in Latin Amer­i­ca. The crowd we hung out with includ­ed men, women, blacks, whites, His­pan­ics and inter­na­tion­al stu­dents. Barack lis­tened care­ful­ly to all points of view and he was fun­ny, smart, thought­ful and well-liked. It was easy to sit down with him and have a fun con­ver­sa­tion.
Kent Goss, Class­mate and Bas­ket­ball play­er
His prep­py vis­age was a lia­bil­i­ty on the bas­ket­ball court. Oba­ma had played for­ward on Puna­hou's 1979 state cham­pi­onship team but that held lit­tle cur­ren­cy in Los Ange­les, where his new friends com­mit­ted hard fouls in pick­up games and ribbed him with quips such as "Wel­come to LA," Goss recalled.

"We were giv­ing him a lot of grief about being from Hawaii and being from Puna­hou, and he was giv­ing it back," Goss said.
Galen Mor­ton, Bas­ket­ball Play­er
Mor­ton, assis­tant track coach and sports infor­ma­tion direc­tor at Dick­in­son State in Dick­in­son, N.D., says he remem­bers Oba­ma from pick­up games and recalls the pres­i­dent-elect as an "even-tem­pered, pret­ty impres­sive guy."

And one more thing. "It was­n't styl­ish to wear those itty-bit­ty socks back then," Mor­ton says, "but I can remem­ber him not wear­ing socks when he played — at least that you could see. The rest of us had socks halfway up our legs. "I sup­pose he could have had socks under­neath his high tops, but you nev­er saw them. And that cer­tain­ly was­n't the style."
Wahid Hamid, a good friend at Oxy who attend­ed Oba­ma's wed­ding years lat­er, says that even before he became Barack, most friends sim­ply called him "Oba­ma." "It was­n't sur­pris­ing to me that he decid­ed to embrace that iden­ti­ty because 'Bar­ry' could be per­ceived as try­ing to run away from some­thing and try­ing to fit in, rather than embrac­ing his own iden­ti­ty and, in many ways, kind of open­ing him­self to who he is." For Wahid, an immi­grant from Pak­istan also try­ing to find his way in Amer­i­ca (he is now a cor­po­rate exec­u­tive in New York), the name Barack was per­fect­ly nat­ur­al and "some­what refresh­ing."
Mar­got Mif­flin, Class­mate
The young man Mif­flin remem­bers was "an unpre­ten­tious, down to earth, solid­ly mid­dle-class guy who seemed some­what more sophis­ti­cat­ed than the aver­age col­lege stu­dent. He was slight­ly reserved and delib­er­ate in a way that I some­times thought betrayed an uncer­tain­ty."

"He was clear­ly shocked by the eco­nom­ic dis­par­i­ty he saw in Pak­istan. He could­n't get over the sight of rur­al peas­ants bow­ing to the wealthy landown­ers they worked for as they passed," says Mar­got Mif­flin, who makes a brief appear­ance in Oba­ma's mem­oir.

"I was a year ahead of him. I invit­ed him and his room­mate Hasan Chan­doo, who I start­ed dat­ing, to din­ner, and they showed up look­ing crisp and fresh-faced. I'd go to stu­dent par­ties round their house; I remem­ber danc­ing to 'Once in a Life­time' by Talk­ing Heads in a sea of peo­ple.

Bar­ry was a focused, ded­i­cat­ed stu­dent and an earnest, sin­cere per­son, but he was­n't too seri­ous to talk about the fun stuff. We'd hang out and talk about what was hap­pen­ing in class and who was dat­ing whom. He goofed around with the rest of us. He was engag­ing and per­haps even charis­mat­ic, but I was­n't aware of him being a play­boy. He was friends with women who were impres­sive fem­i­nists as well as peo­ple who were more social­ly focused. He strad­dled groups: the arts/literary crowd, which tend­ed to stick togeth­er, and the polit­i­cal activist crowd, like­wise. He belonged to both.

I stud­ied in a cre­ative writ­ing class with him. I remem­ber him sub­mit­ting a poem called 'Pop' (since pub­lished in the New York­er). It was a pen­e­trat­ing por­trait of his grand­fa­ther, in which his grand­fa­ther asked him what he was going to do with his life.

I was also at the ral­ly where he gave his first speech, an anti-apartheid ral­ly at Occi­den­tal. He was hunched over the mike, it was too low for him. He was ner­vous and he was rush­ing a lit­tle. I recall him say­ing some­thing like: 'Occi­den­tal should spend less time invest­ing in South Africa and more time on mul­ti­cul­tur­al edu­ca­tion.' That was impres­sive because you think of mul­ti­cul­tur­al­ism as a Nineties phe­nom­e­non, and here he was in the ear­ly Eight­ies, think­ing about the need for that in an edu­ca­tion­al sense.

It did­n't occur to any­one this guy could become Pres­i­dent. He cer­tain­ly did­n't go around say­ing any­thing that auda­cious or ambi­tious. He was a nose-to-the-grind­stone, qui­et work­er, not the kind who would run around toot­ing his own horn, even though he was prob­a­bly get­ting mes­sages from his pro­fes­sors that he had seri­ous tal­ent. I think he was fig­ur­ing out who he would be and when he left Occi­den­tal he took the steps to become that per­son. It's like Shake­speare's line: 'Some are born great, some achieve great­ness and some have great­ness thrust upon them.' He was the guy who achieved great­ness and it clear­ly took a lot of hard work to do that.
Jon K. Mitchell, Class­mate
Jon K. Mitchell, who lat­er played bass for coun­try-swing band Asleep at the Wheel… remem­bers that Oba­ma wore puka shell neck­laces all the time, though they were not in style, and that "we let it slide because he spent a lot of time grow­ing up in Hawaii."
Rebec­ca Rivera, Class­mate
He was one of a few stu­dents who spoke at a cam­pus divest­ment ral­ly. Rebec­ca Rivera, then a mem­ber of a sim­i­lar His­pan­ic stu­dents' group, said: "He clear­ly under­stood our social respon­si­bil­i­ty and the way the college's mon­ey was impact­ing the lives of black peo­ple in South Africa and pre­vent­ing the coun­try from pro­gress­ing." She added, "There was pas­sion, absolute­ly, but not inco­her­ent fier­i­ness."

"The audi­ence was rapt when he spoke. I remem­ber telling him after, 'You are a real­ly good speak­er — obvi­ous­ly you have a lot to say. I wish you would get more involved,' " Rivera recalled. She said Oba­ma's response was essen­tial­ly, "When it's impor­tant, I do get involved." The impli­ca­tion, she said, was that a lot of what passed for cam­pus activism he con­sid­ered mere "Mick­ey Mouse stuff."
Kathy Coop­er-Ledes­ma, Class­mate
"Well, I remem­ber Bar­ry being the most inquis­i­tive per­son in class. I think we had two class­es togeth­er in the Polit­i­cal Sci­ence Depart­ment. And he always had a ques­tion for every­thing that was brought up and he always liked to stay after the bell ask­ing more and more ques­tions. That was sim­ply his nature."
Eric B. Moore, Class­mate
"We were going to a con­cert or an art fes­ti­val. We were cul­ture and music hounds," says Eric B. Moore, who pho­tographed then-col­lege fresh­man Barack Oba­ma, look­ing inar­guably cool in an alo­ha shirt as he stared down the dis­tance. "That might have been one of his bet­ter shirts. He was always in T‑shirts, shorts and thongs. I don't think he had a pair of closed-toe shoes."

Even back then, Moore says, the pres­i­dent-elect had a pres­ence but was­n't pompous: "He was down to earth and affa­ble and very warm. A casu­al guy." The two liked to lis­ten to lots of jazz and musi­cians like Earth, Wind & Fire and Bob Mar­ley — a typ­i­cal day-to-day sound­track for a thought­ful teen dur­ing that time. "It's sur­re­al to know that he is now the leader of the free world," says Moore, a senior vice pres­i­dent at Tran­swest­ern who will be attend­ing the inau­gu­ra­tion. "I just know him to be that great guy from col­lege."

Bar­ry Oba­ma met Eric Moore fresh on arrival from Hawaii at Occi­den­tal Col­lege in Los Ange­les. The two roamed in the same cir­cles, grav­i­tat­ing toward friends who con­sid­ered them­selves "pro­gres­sive," includ­ing many with inter­na­tion­al back­grounds. Moore came from the most­ly white col­lege town of Boul­der, Colo. He hoped Occi­den­tal and Los Ange­les would expose him to African-Amer­i­can cul­ture in a way that his Cau­casian-dom­i­nat­ed world back home could not. Yet Occi­den­tal had 1,675 kids enrolled, and only 17.7 per­cent were minori­ties.

"There was a cer­tain kin­ship right away," Moore says. He remem­bers Oba­ma as pol­ished and pre­co­cious. He seemed old­er than his age, unless you con­sid­ered the flip-flops, T shirt and Hawai­ian shorts he wore around cam­pus. "He was more world­ly than the aver­age kid in Cal­i­for­nia," Moore says, "although he clear­ly looked like a surfer type."

"What kind of name is Bar­ry Obama—for a broth­er?" Moore asked with a grin. "Actu­al­ly, my name's Barack Oba­ma," he replied. "That's a very strong name," Moore told him. Oba­ma respond­ed that he did­n't want to have to explain his name. "Bar­ry" was just a way of sim­pli­fy­ing things—a small com­pro­mise to smooth the way in soci­ety.

Moore knew then that Oba­ma had been called Bar­ry for a very long time, but he made a point to call him Barack any­way. He did this because he liked the name, he says, but also because he respect­ed any­thing African. "It was a time when we were very con­scious and he actu­al­ly appre­ci­at­ed that I called him Barack," Moore says. A hand­ful of peo­ple, most­ly close friends, would use Barack and Bar­ry inter­change­ably.
Amiekoleh Usafi (Kim Kim­brew), Class­mate
While he would some­times attend par­ties held by black stu­dents and Lati­nos, Amiekoleh Usafi, a class­mate who also spoke at the ral­ly, recalled see­ing him at par­ties put togeth­er by the polit­i­cal and artis­tic set.

Ms. Usafi, whose name at Occi­den­tal was Kim Kim­brew, said the most she saw Mr. Oba­ma indulging in were cig­a­rettes and beer. "I would nev­er say that he was a drug­gie, and there were plen­ty there," she said. "He was too cool for all that."
[A cou­ple] who knew Barack Oba­ma at Occi­den­tal Col­lege are New Amer­i­ca Foun­da­tion Pres­i­dent and New York­er staff writer Steve Coll and his wife Susan. I asked Coll what the depth of his and his wife's rela­tion­ship with Oba­ma was — and whether he'd seen the pres­i­den­tial aspi­rant get "wild."

Coll told me that he was two years ahead of Barack — and his wife one year ahead — and that they were all pret­ty good friends. They are friends now, but at a more pro­nounced dis­tance and don't see each oth­er much.

Coll recount­ed that he and Susan were impressed with Oba­ma then and saw absolute­ly noth­ing on the drug front with him — though he can't say the same about a lot of his oth­er Oxy pals. He said that his one wild thing that got him a lot of acco­lades was his hard lob­by­ing to get the trustees to divest Occi­den­tal Col­lege hold­ings from South Africa, which they did.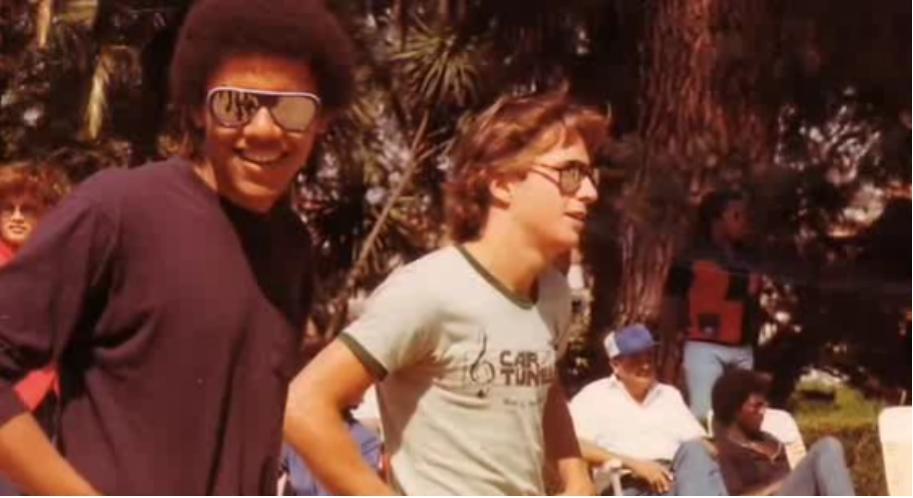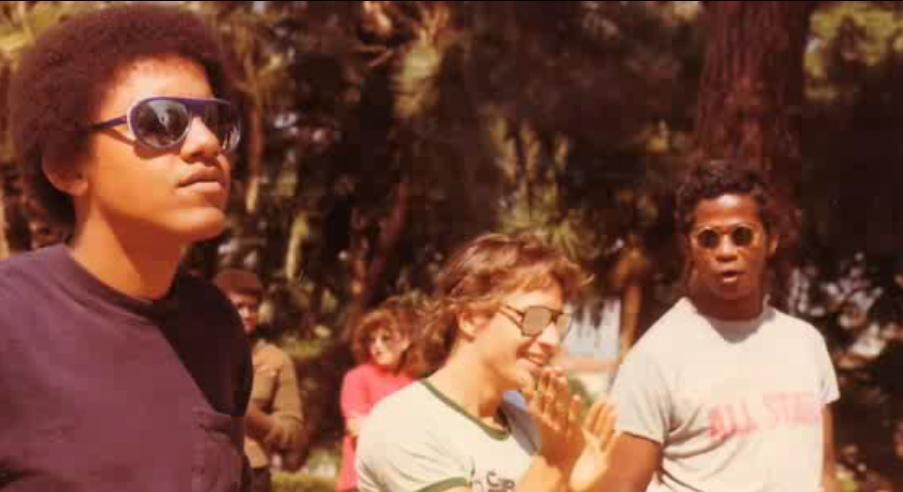 ---
FACULTY
Richard Gilman, Occi­den­tal Pres­i­dent
Pres­i­dent Richard Gilman nom­i­nat­ed him for a Tru­man Schol­ar­ship dur­ing his sopho­more year.
Roger Boesche, Pro­fes­sor of Pol­i­tics
Roger Boesche, a pro­fes­sor of pol­i­tics who's cit­ed as Oba­ma's intel­lec­tu­al men­tor at Occi­den­tal, said the young man from Hon­olu­lu was "a very thought­ful stu­dent and a very curi­ous stu­dent." Oba­ma enrolled in two of Boesche's cours­es: a sur­vey of Amer­i­can gov­ern­ment and polit­i­cal thought from the Rev­o­lu­tion through the civ­il rights move­ment and an advanced look at mod­ern Euro­pean polit­i­cal thought, which tack­led such philoso­phers as Friedrich Niet­zsche and Max Weber.

"You did­n't take my Euro­pean Mod­ern class with­out want­i­ng to think about deep ideas," said Boesche. Teacher and stu­dent lat­er lost touch until Oba­ma, then an Illi­nois state sen­a­tor, ran for the U.S. Sen­ate in 2004 and Boesche launched a warm e‑mail cor­re­spon­dence.

… [Pro­fes­sor] Boesche, has mem­o­ries of him at a pop­u­lar burg­er joint on cam­pus. "He was always sit­ting there with stu­dents who were some of the most artic­u­late and those con­cerned with issues like vio­lence in Cen­tral Amer­i­ca and hav­ing busi­ness­es divest from South Africa," he said. "These were the kids most con­cerned with issues of social jus­tice and who took class­es and books seri­ous­ly."
Eric Newhall, Pro­fes­sor of Amer­i­can Stud­ies and Amer­i­can lit­er­a­ture
Eric Newhall, a pro­fes­sor of Amer­i­can stud­ies and Amer­i­can lit­er­a­ture at Occi­den­tal, said Oba­ma played with flair as a fierce­ly com­pet­i­tive guard in fac­ul­ty-stu­dent pick­up bas­ket­ball games. "I remem­ber him clear­ly as bet­ter as an offen­sive play­er than a defense play­er," he said. Now Newhall likes to light­heart­ed­ly brag that he "scored a good num­ber of bas­kets against the sen­a­tor of Illi­nois. I would love to say I scored against the pres­i­dent."

On a more seri­ous note, Newhall said Oba­ma already showed glimpses of social con­science and what his sup­port­ers describe as his charis­ma. "Clear­ly the guy had a pres­ence," he said. "He came off as a seri­ous, artic­u­late, intel­li­gent young guy," Newhall recalled. "I did­n't say, 'Here is pres­i­den­tial tim­ber,' but I said to myself, 'I like our stu­dent body because they are going out to do inter­est­ing things.' "
Anne How­ells, Retired Pro­fes­sor of Eng­lish
Anne How­ells, a retired Eng­lish pro­fes­sor, said she wrote Oba­ma a rec­om­men­da­tion for his Colum­bia trans­fer — even though he some­times turned in assign­ments late. "He want­ed a big­ger school and the expe­ri­ence of Man­hat­tan," she said. "I thought it was a good move for him."

"He was so bright and want­ed a wider urban expe­ri­ence."

"He was the kind of stu­dent that comes along and you say, 'Oh, I wish I had writ­ten that or thought of that,' " How­ells said.

Anne How­ells, who taught him Intro­duc­tion to Lit­er­ary The­o­ry in the win­ter semes­ter of 1980, had noticed Oba­ma's full name on the enroll­ment list of about 15 stu­dents. She was curi­ous about it, won­der­ing if it was a Hawai­ian name. But when she went around the room ask­ing each stu­dent how he or she would like to be called, Oba­ma answered "Bar­ry."
Lawrence Gol­dyn, Pro­fes­sor of Polit­i­cal Sci­ence
As an 18-year-old under­grad­u­ate stu­dent at Occi­den­tal Col­lege in Los Ange­les, Barack Oba­ma was among a coterie of stu­dents who spoke reg­u­lar­ly with Lawrence Gol­dyn.

Gol­dyn, an open­ly gay polit­i­cal sci­ence pro­fes­sor who served as a men­tor and friend to many of the school's minor­i­ty stu­dents, said Oba­ma joined him and oth­er stu­dents in dis­cus­sions about social and polit­i­cal issues at a time when Oba­ma was begin­ning to devel­op an inter­est in pol­i­tics and civ­il rights caus­es.

"He was one of those usu­al, straight young men who was secure enough in his sex­u­al­i­ty that he was not fear­ful of being asso­ci­at­ed with me, whether that involved tak­ing a class or just talk­ing social­ly," said Gol­dyn, who also served as fac­ul­ty advis­er for Occidental's gay stu­dent group.
Mike Zinn, For­mer Occidental Ath­let­ic Direc­tor and Bas­ket­ball Coach
"I coached there, and he def­i­nite­ly played for me," says Zinn, a for­mer Occi­den­tal ath­let­ic direc­tor and bas­ket­ball coach. Oba­ma, he says, was his start­ing small for­ward in the 1979–80 sea­son.

"He was real­ly ath­let­ic, ran good, jumped good," says Zinn, who left coach­ing about 20 years ago and is a part­ner in an Orange Coun­ty sales agency. "He was­n't a great out­side shoot­er. In bas­ket­ball ter­mi­nol­o­gy, he was kind of a slash­er. He was left-hand­ed. He went left well, did­n't go right that well.

"He had a nose for the ball, always came up with loose balls and rebounds inside. So if he got 10 points in a game, most of them were prob­a­bly under the bas­ket. He did­n't hit jump shots from 15 feet or any­thing like that. He was a good defend­er, def­i­nite­ly a good ath­lete."

He esti­mates that Oba­ma aver­aged about eight points, five or six rebounds and one or two assists a game. In 1980, Zinn was ele­vat­ed to var­si­ty coach and says he met with Oba­ma "to tell him that I was inter­est­ed in hav­ing him con­tin­ue to play. I antic­i­pat­ed that he was going to con­tribute some­where in the pro­gram through­out his career, if not as a starter than as a reserve."

But when Oba­ma returned for his sopho­more year, Zinn says, he told the coach he would no longer be play­ing bas­ket­ball because he want­ed to con­cen­trate on aca­d­e­mics. Before his junior year, Oba­ma trans­ferred to Colum­bia. But Zinn was­n't sur­prised he'd turned to lofti­er pur­suits.

"You could tell he was a real­ly intel­li­gent guy, a pret­ty deep thinker," Zinn says. "Fresh­men are goof-offs, in a lot of cas­es, but he was not like that.

---
New York: Colum­bia Uni­ver­si­ty
OFFICIAL SOURCES:
Bri­an Con­nol­ly, Colum­bia Spokesman
A spokesman for the uni­ver­si­ty, Bri­an Con­nol­ly, con­firmed that Mr. Oba­ma spent two years at Colum­bia Col­lege and grad­u­at­ed in 1983 with a major in polit­i­cal sci­ence. He did not receive hon­ors, Mr. Con­nol­ly said, though spe­cif­ic infor­ma­tion on his grades is sealed. A pro­gram from the 1983 grad­u­a­tion cer­e­mo­ny lists him as a grad­u­ate.
Robert Horns­by, Colum­bia Spokesman
School spokesman Robert Horns­by told WND that fed­er­al law lim­its the release of infor­ma­tion about a stu­dent, but he could con­firm that "Barack Oba­ma applied for and was grant­ed admis­sion to Colum­bia Col­lege as a trans­fer stu­dent in 1981. He enrolled for the fall term of that year as a polit­i­cal sci­ence major. With the con­clu­sion of the spring semes­ter of 1983, Oba­ma com­plet­ed the require­ments for a Bach­e­lor of Arts degree in polit­i­cal sci­ence and grad­u­at­ed with his class."
Colum­bia Uni­ver­si­ty Direc­to­ry
Colum­bia Uni­ver­si­ty Class of 1983 Grad­u­a­tion Pro­gram (added 6/19/2012)
"The image [to the left] –nev­er before released–is from pub­lic records at Colum­bia Uni­ver­si­ty that prove that Oba­ma did, in fact, grad­u­ate in 1983 from the Ivy League school. Con­trary to some con­spir­a­cy the­o­ries, Oba­ma was a stu­dent with­in the Fac­ul­ty of Arts and Sciences–not the less selec­tive, "non­tra­di­tion­al" Colum­bia Uni­ver­si­ty School of Gen­er­al Stud­ies (which only merged with the Fac­ul­ty of Arts and Sci­ences in 1990)." From Breitbart.com
Some birthers have ques­tioned why Oba­ma is list­ed at the end. It's alpha­bet­i­cal by last name. It also shows that he did­n't attend under the name "Bar­ry Soe­toro", anoth­er claim.
Colum­bia Col­lege, Colum­bia Uni­ver­si­ty web site
Barack Oba­ma '83 became the first Col­lege alum­nus to be elect­ed Pres­i­dent of the Unit­ed States. On Novem­ber 4, Oba­ma defeat­ed his Repub­li­can chal­lenger, Sen. John McCain P'07, end­ing a marathon cam­paign that saw Oba­ma rise from a first-term sen­a­tor to the nation's first African-Amer­i­can pres­i­dent.

Oba­ma, who was pro­filed in Colum­bia Col­lege Today in Jan­u­ary 2005 when he burst upon the nation­al polit­i­cal scene, trans­ferred to Colum­bia from Occi­den­tal pri­or to his junior year.
Colum­bia Spec­ta­tor, Colum­bia Col­lege
The pres­i­den­tial race that cap­ti­vat­ed the coun­try for months held a spe­cial res­o­nance on cam­pus, as Barack Oba­ma, CC '83, became not only the first black per­son to win the office, but also the first Colum­bia Col­lege alum­nus to do so.
Colum­bia Col­lege Today, Fall 1990
The elec­tion of Barack Oba­ma '83 last Feb­ru­ary as the first black pres­i­dent of the Har­vard Law Review com­mand­ed wide atten­tion in the press. How­ev­er, he empha­sized to a reporter, "It is impor­tant that sto­ries like mine are not used to say that every­thing is OK for blacks. You have to remem­ber that for every one of me, there are hun­dreds or thou­sands of black stu­dents with at least equal tal­ent who don't get a chance." Mr. Oba­ma spent four years after col­lege head­ing a com­mu­ni­ty devel­op­ment pro­gram on Chicago's South Side before enrolling in Law School. Born in Hawaii — his late father, Barack Oba­ma Sr. was a Kenyan finance min­is­ter and his moth­er Ann Dun­ham, is an Amer­i­can anthro­pol­o­gist — Mr. Oba­ma was large­ly raised in Los Ange­les and Indone­sia. In inter­views with the Har­vard Law Record, law review mem­bers said it was Mr. Obama's com­bi­na­tion of ""out­stand­ing legal schol­ar­ship and expe­ri­ence as a com­mu­ni­ty orga­niz­er, in addi­tion to his inclu­sive lead­er­ship style, that dis­tin­guished him from the field of can­di­dates" for the edi­tor­ship, to which he must devote about 60 hours a week.
Colum­bia Col­lege Today, May 2004
Obama Wins U.S. Senate Primary

Barack Oba­ma '83, Illi­nois state sen­a­tor for the 13th dis­trict on Chicago's South Side, won the Demo­c­ra­t­ic pri­ma­ry for the U.S. Sen­ate over six rivals on March 16. He will oppose Repub­li­can Jack Ryan in the gen­er­al elec­tion in Novem­ber for a Sen­ate seat being vacat­ed by Peter Fitzger­ald, a Repub­li­can who is retir­ing after one term.

Oba­ma received 55 per­cent of the vote in the Demo­c­ra­t­ic Pri­ma­ry. His near­est oppo­nent, state Comp­trol­ler Dan Hynes, drew 23 per­cent.

"I think it's fair to say the con­ven­tion­al wis­dom was we could not win," Oba­ma told his cheer­ing sup­port­ers fol­low­ing the pri­ma­ry vic­to­ry. "We didn't have enough mon­ey. We didn't have enough orga­ni­za­tion. There was no way that a skin­ny guy from the South Side with a fun­ny name like Barack Oba­ma could ever win a statewide race. Six­teen months lat­er, we are here."

Oba­ma, 42, was a polit­i­cal sci­ence major at the Col­lege and went on to Har­vard Law School, where he was the first African-Amer­i­can pres­i­dent of the Har­vard Law Review. He is a civ­il rights attor­ney spe­cial­iz­ing in employ­ment dis­crim­i­na­tion, fair hous­ing and vot­ing rights leg­is­la­tion and teach­es civ­il rights law and oth­er sub­jects at the Uni­ver­si­ty of Chica­go.

If he wins in Novem­ber, Oba­ma would become the only African-Amer­i­can in the U.S. Sen­ate and only the third black U.S. Sen­a­tor since Recon­struc­tion.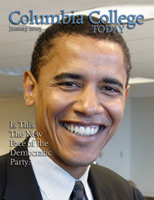 Colum­bia Col­lege Today, Jan 2005
Barack Oba­ma '83 — The New Face of the Demo­c­ra­t­ic Par­ty? (Cov­er Sto­ry)

Oba­ma says he was still goof­ing off for the first two years of col­lege, which he spent at Occi­den­tal in Los Ange­les. He con­tin­ued to play bas­ket­ball, which friends say he is still quite good at, and was involved in oth­er orga­nized activ­i­ties. He also spent "a lot of time hav­ing fun."

He changed course junior year when he trans­ferred to Colum­bia. "I real­ized I want­ed to be in a more vibrant, urban envi­ron­ment," he says. As a trans­fer stu­dent, he didn't receive hous­ing, so lived off cam­pus in var­i­ous makeshift arrange­ments, such as liv­ing in one bed­room of a three-bed­room apart­ment, and rent­ing a sixth-floor walk-up with slant­i­ng floors on the East Side, "just north of gen­tri­fi­ca­tion," as he describes it.

As he pur­sued a polit­i­cal sci­ence degree, spe­cial­iz­ing in inter­na­tion­al rela­tions, Oba­ma says he was some­what involved with the Black Stu­dents Orga­ni­za­tion and par­tic­i­pat­ed in anti-apartheid activ­i­ties. "Most­ly, my years at Colum­bia were an intense peri­od of study," he says. "When I trans­ferred, I decid­ed to buck­le down and get seri­ous. I spent a lot of time in the library. I didn't social­ize that much. I was like a monk."
Barack Oba­ma, CC'83, First Colum­bia Grad­u­ate Elect­ed Pres­i­dent of the Unit­ed States

Barack Oba­ma (CC'83) becomes the first Colum­bia grad­u­ate elect­ed pres­i­dent of the Unit­ed States.

"We note with pride that Barack Oba­ma will not only be the nation's first African Amer­i­can pres­i­dent, he will also be the first Colum­bia grad­u­ate to occu­py the Oval Office," Colum­bia pres­i­dent Lee C. Bollinger said.

Oba­ma attend­ed Colum­bia Col­lege from 1981 to 1983, after trans­fer­ring in his junior year from Occi­den­tal Col­lege.
Nation­al Stu­dent Clearing­house
"… accord­ing to infor­ma­tion pro­vid­ed by the [Nation­al Stu­dent Clear­ing­house] to a WND source, Oba­ma attend­ed from "09/1981" to "05/1983" and fin­ished with a Bach­e­lor of Arts degree in polit­i­cal sci­ence."
---
PUBLICATIONS
Sun­di­al, March 10, 1983 "Break­ing the War Men­tal­i­ty"
---
FELLOW STUDENTS
Phil Boern­er, Class­mate and Room­mate
I was Barack Oba­ma '83's room­mate at Colum­bia Col­lege in fall 1981.… We both trans­ferred from Oxy to Colum­bia infall 1981. Barack had found an apart­ment on West 109th Street, between Ams­ter­dam and Colum­bus [Video of apart­ment as it looks now], and sug­gest­ed that I room with him. Our sub­let was a third-sto­ry walk-up in a so-so neigh­bor­hood; the unit next door was burned out and vacant. The door­bell didn't work; to be let in when I first arrived I had to yell up to Barack from the street. It was a rail­road apart­ment: From the kitchen, you walked into Barack's room, then my room, and last­ly the liv­ing room. We didn't have a tele­vi­sion or com­put­ers. In that apart­ment we host­ed a num­ber of vis­i­tors, most­ly friends from Oxy who stayed overnight when they were pass­ing through town. Barack was very gen­er­ous to these vis­i­tors. As a host and room­mate, he some­times did the shop­ping and cooked the chick­en cur­ry.


Barack has said that he spent a lot of time in the library while at Colum­bia and one rea­son
for this was that our apart­ment had irreg­u­lar heat, and we didn't enjoy hang­ing out there once the weath­er got cold. The radi­a­tors in our apart­ment were either stone cold, or, less often, blast­ed out such intense heat that we had to open the win­dows and let in freez­ing air just to cool things down. When the heat wasn't on, we some­times sat with sleep­ing bags or blan­kets wrapped around our­selves and read our school books. We also didn't have reg­u­lar hot water and some­times used the Colum­bia gym for show­ers.

I remem­ber often eat­ing break­fast with Barack at Tom's Restau­rant on Broad­way. Occa­sion­al­ly we went to The West End for beers. We enjoyed explor­ing muse­ums such as the Guggen­heim, the Met and the Amer­i­can Muse­um of Nat­ur­al His­to­ry, and brows­ing in book­stores such as the Strand and the Barnes & Noble oppo­site Colum­bia. We both liked tak­ing long walks down Broad­way on a Sun­day after­noon, and lis­ten­ing to the silence of Cen­tral Park after a big snow. I also remem­ber jog­ging the loop around Cen­tral Park with Barack.

One week­end I invit­ed Barack to meet my grand­par­ents, Eliz­a­beth and William Lyt­ton Payne '46 GSAS, at their sum­mer place in the Catskills, which we called "the farm." I took Barack to meet some neigh­bors on the moun­tain; every­one seemed to like him pret­ty well, whether they were die-hard sup­port­ers of Ronald Rea­gan or extreme lib­er­als. While at the farm, Barack joined the rou­tines there, which typ­i­cal­ly includ­ed a few morn­ing hours doing chores, such as clear­ing brush and saw­ing fire­wood.

After that first semes­ter, we had to move. Barack tried to find an apart­ment for both of us, but was only able to find a stu­dio for him­self. I was able to house-sit in Brook­lyn Heights. Barack and oth­er friends came and vis­it­ed me there a few times; we typ­i­cal­ly watched pro bas­ket­ball or foot­ball on TV, or went out for din­ner at a Chi­nese restau­rant. He was amused by my begin­ning ban­jo play­ing (I'm much bet­ter today!). Hang­ing out, we could get pret­ty emo­tion­al about sports, food and injus­tice. I remem­ber one time when we were out walk­ing he took the time to ask a home­less guy how he was doing, so even then he was con­cerned about oth­ers.

Through dif­fer­ent liv­ing arrange­ments in Asto­ria, Queens; Bay Ridge, Brook­lyn; and all over Man­hat­tan, we stayed in touch and remained friends for the rest of our col­lege years. He got to know my girl­friend from Arkansas, who is now my wife. Since I last saw him in 1985, we have exchanged a few let­ters and pho­tos. He left for Chica­go, and I even­tu­al­ly set­tled in Sacra­men­to.

Barack wasn't think­ing about becom­ing Pres­i­dent when he was in col­lege; he want­ed to be a writer. Barack is a good man — some might even call him a saint for tol­er­at­ing my begin­ning ban­jo play­ing. Based on my six years of know­ing him in col­lege and the years imme­di­ate­ly after, I can vouch that Barack is a man of char­ac­ter, and I trust him to do the right things when he is Pres­i­dent.

Accord­ing to Phil Boern­er, Obama's room­mate, friend and fel­low trans­fer, Oba­ma trans­ferred from Occi­den­tal to CU because: "we [Boern­er and Oba­ma] felt like we were in a groove and we want­ed life to be more difficult…Obama used to tell his friends that he want­ed to go some­where where the weath­er was cold and mis­er­able so that he would be forced to spend his days indoors read­ing."

Oba­ma took a a course on mod­ern fic­tion with the late fabled Edward Said. He was under­whelmed. [Author David] Rem­nick writes, "And yet Said's the­o­ret­i­cal approach left Oba­ma cold. 'My whole thing, and Barack had a sim­i­lar view, was that we would rather read Shakespeare's plays than the crit­i­cism,' Boern­er said. 'Said was more inter­est­ed in the lit­er­ary the­o­ry, which didn't appeal to Barack or me.' Oba­ma referred to Said as a 'flake.'"

Oba­ma lived at 142 West 109th and Ams­ter­dam with Boern­er. Their month­ly rent was $360. Rem­nick writes that, "the apartment's charms includ­ed spot­ty heat, irreg­u­lar hot water, and a rail­road-flat lay­out. They adjust­ed, using the show­ers at the Colum­bia gym and camp­ing out for long hours in But­ler library." Um, POTUS…they're just like us!

Mr. Oba­ma, who ulti­mate­ly made Chica­go, and now Wash­ing­ton, his home, enjoyed his New York years, Mr. Boern­er recalls. Muse­ums. Jog­ging in the park. Break­fasts at Tom's on Broad­way, not yet the cel­e­brat­ed hang­out of Jer­ry Sein­feld and George Costan­za.

"I miss New York and the peo­ple in it," he would write Mr. Boern­er a few years after they grad­u­at­ed. "The sub­ways, the feel of Man­hat­tan streets, the view down­town from the Brook­lyn Bridge."

The apart­ment they shared, how­ev­er, took some get­ting used to, Mr. Boern­er recalled: 3E at 142 West 109th Street, a five-sto­ry build­ing between Ams­ter­dam and Colum­bus Avenues. The apart­ment had no inte­ri­or doors, just arch­ways, and Mr. Boern­er had to walk through Mr. Obama's room to reach his own. Hot water was scarce, and the two young men often show­ered at the Colum­bia gym. "It had a bath­tub but no show­er, just one of those plas­tic show­er things that works inef­fec­tive­ly,'' said Mr. Boern­er…

When they lived togeth­er, Mr. Boern­er said he thought Mr. Oba­ma want­ed to be a writer, not a politi­cian.

New York was on the rebound when Mr. Oba­ma arrived in New York. Ronald Rea­gan was pres­i­dent. Edward I. Koch was may­or and the city's fis­cal cri­sis had just start­ed to abate. Life for Colum­bia stu­dents could be hard, how­ev­er. Mr. Boern­er recalls Mr. Oba­ma wrap­ping him­self in a green sleep­ing bag (seen in this pho­to Mr. Boern­er took) to keep warm when they stud­ied at home. They lis­tened to reg­gae. Bob Mar­ley. Peter Tosh. Talked phi­los­o­phy. The­o­ries of jus­tice and John Rawls. Mr. Boern­er recalled Mr. Oba­ma jok­ing that he would rather be spend­ing his time pon­der­ing Lou Rawls, the singer.

Some nights Mr. Oba­ma would whip up some chick­en cur­ry, a dish he learned from a Pak­istani friend. Oth­er meals were at Tom's. "We would just go there for the break­fast spe­cial, two eggs over easy and toast,'' said Mr. Boern­er. "It was like $1.99, and we lived on a lot of bagels. They were, like, a quar­ter then, but they expand­ed in your stom­ach.''

Though the two men stayed in touch, the hous­ing arrange­ment end­ed that win­ter. Mr. Boern­er thinks the lease­hold­er took the apart­ment back. Mr. Oba­ma recalled in his mem­oir giv­ing up the place "for lack of heat.''

His let­ters to Mr. Boern­er reflect­ed the wist­ful­ness of all expa­tri­ate New York­ers. "I am still amazed when I think of what we put up with there," he wrote Mr. Boern­er in Octo­ber 1986. "Still, I think you'll find you miss it once you've been gone awhile."
Sohale Sid­diqi, Class­mate and Room­mate
The way Sohale Sid­diqi remem­bers it, he and his old room­mate were walk­ing his pug Char­lie on Broad­way when a large, scary bum approached them, stomp­ing on the ground near the dog's head.

This was in the 1980s, a time when New York was a fear­ful place beset by drugs and crime, when the street smart knew that the best way to han­dle the city's dere­licts was to avoid them entire­ly. But Sid­diqi was angry and he con­front­ed the bum, who approached him men­ac­ing­ly.

Until his skin­ny, Ivy League-edu­cat­ed friend — Barack Oba­ma — inter­vened.

He "stepped right in between. … He plant­ed his face firm­ly in the face of the guy. 'Hey, hey, hey.' And the guy backpedaled and we kept walk­ing," Sid­diqi recalls.


There was a time before Oba­ma wore tai­lored suits — when his wardrobe con­sist­ed of $5 mil­i­tary-sur­plus khakis and used leather jack­ets, and he walked the streets of Man­hat­tan for lack of bus fare. It was a time well before the polit­i­cal are­na beck­oned, when his friends thought he might become a writer or a lawyer, but cer­tain­ly not the first black man with a real chance to become pres­i­dent of the Unit­ed States.

When Oba­ma arrived in New York, he already knew Sid­diqi — a friend of [Occi­den­tal Class­mates] Chan­doo's and Hamid's from Karachi who had vis­it­ed Los Ange­les. Look­ing back, Sid­diqi acknowl­edges that he and Oba­ma were an odd cou­ple. Sid­diqi would mock Oba­ma's ide­al­ism — he just want­ed to make a lot of mon­ey and buy things, while Oba­ma want­ed to help the poor.

"At that age, I thought he was a saint and a square, and he took him­self too seri­ous­ly," Sid­diqi said. "I would ask him why he was so seri­ous. He was gen­uine­ly con­cerned with the plight of the poor. He'd give me lec­tures, which I found very bor­ing. He must have found me very irri­tat­ing."

Sid­diqi offered the most expan­sive account of Oba­ma as a young man.

"We were both very lost. We were both alien­at­ed, although he might not put it that way. He arrived disheveled and with­out a place to stay," said Sid­diqi, who at the time worked as a wait­er and as a sales­man at a bou­tique.

In about 1982, Sid­diqi and Oba­ma got an apart­ment at a sixth-floor walkup on East 94th Street. Sid­diqi man­aged to get the apart­ment thanks to sub­terfuge.

"We did­n't have a chance in hell of get­ting this apart­ment unless we fab­ri­cat­ed the lease appli­ca­tion," Sid­diqi said.

Sid­diqi fudged his cre­den­tials, say­ing he had a high-pay­ing job at a cater­ing com­pa­ny, but Oba­ma "want­ed no part of it. He put down the truth."

While Oba­ma has acknowl­edged using mar­i­jua­na and cocaine dur­ing high school in Hawai'i, he writes in the mem­oir that he stopped using soon after his arrival in New York. His room­mate had no such scru­ples.

But Sid­diqi says that dur­ing their time togeth­er here, Oba­ma always refused his offers of drugs.

Sid­diqi says Oba­ma was a fol­low­er of come­di­an-activist Dick Gre­go­ry's veg­e­tar­i­an diet. "I think self-depri­va­tion was his schtick, deny­ing him­self plea­sure, good food and all of that."

Sid­diqi said his female friends thought Oba­ma was "a hunk."

"We were always com­pet­ing," he said. "You know how it is. You go to a bar and you try hit­ting on the girls. He had a lot more suc­cess. I would­n't out-com­pete him in pick­ing up girls, that's for sure."

Final­ly, their rela­tion­ship start­ed to fray. "I was par­ty­ing all the time. I was dis­rupt­ing his stud­ies," Sid­diqi said. Oba­ma moved out.

—

Sohale Sid­diqi, his real name, con­firmed Mr. Obama's account that he turned seri­ous in New York and "stopped get­ting high." … What can be said with some cer­tain­ty is that Mr. Oba­ma lived off cam­pus while at Colum­bia in 1981–83 and made few friends.
Michael J. Wolf, who took the sem­i­nar with him and went on to become pres­i­dent of MTV Net­works, said: "He was very smart. He had a broad sense of inter­na­tion­al pol­i­tics and inter­na­tion­al rela­tions. It was a class with a lot of debate. He was a very, very active par­tic­i­pant. I think he was tru­ly dis­tinc­tive from the oth­er peo­ple in that class. He stood out."
Michael Ack­er­man, Class­mate
A young man with a red back­pack often lin­gered out­side the Inter­na­tion­al Affairs Build­ing. He was a com­muter stu­dent, so he typ­i­cal­ly arrived ear­ly, but the door to his Mod­ern Polit­i­cal Move­ments class was always locked until the last minute. His class­mate, Michael Ack­er­man, CC '84, always for­got whether his name was Bar­ry or Barack. He knew that "Barak" means "thun­der" in Hebrew, but Ack­er­man didn't think he looked Jew­ish. Ack­er­man said he found his fel­low polit­i­cal sci­ence major "charm­ing," but the two remained only casu­al acquain­tances.

Barack Oba­ma, CC '83, was "almost chameleon-like, spy-like, slipped in and out," Ack­er­man recalled. "He tried to keep to him­self."

Accord­ing to Ack­er­man, who is now a lawyer in Cal­i­for­nia, Oba­ma some­times played pick-up games of bas­ket­ball and went to a few meet­ings of the Black Stu­dents Orga­ni­za­tion, but "he didn't real­ly hang out much" and kept his nose in the books. "At that time, a lot of com­muters at Colum­bia weren't as involved as peo­ple who lived on cam­pus," Ack­er­man said.
… I met Barack Oba­ma at Colum­bia Uni­ver­si­ty when we were both stu­dents there in Spring 1983… I was a stu­dent at Colum­bia Uni­ver­si­ty 1981–1985.

Not only did I meet and talk with Barack Oba­ma at some length, he wrote an essay that was pub­lished in The Sun­di­al mag­a­zine on cam­pus in 1983. Over the byline "Barack Oba­ma" is a dis­cus­sion of the anti-war groups on cam­pus, includ­ing Stu­dents Against Mil­i­tarism, a group I was a mem­ber of. (I was also a mem­ber of Young Amer­i­cans for Free­dom.)…

So, in sum­ma­ry, I was a stu­dent at Colum­bia, I met Barack Oba­ma, I knew he was a stu­dent, and he and I talked, among oth­er things, about my involve­ment in Stu­dents Against Mil­i­tarism, my dis­com­fort with its con­nec­tion to Maoists and Stal­in­ists on cam­pus, and my favourite hat with polit­i­cal but­tons all over it.
Cathie M. Cur­rie, Grad­u­ate Stu­dent
"I knew [Oba­ma] while he was [at Colum­bia]. He was remark­able then, but not in the way that most peo­ple think of as "remark­able." He was not try­ing to be noticed — he was stu­dious and thought­ful. I said of him: "What­ev­er Barack decides to do for a career, he will be the best at it." When he left our group he was often on his way to a library."

"We played soc­cer on the lawn in front of But­ler — I was usu­al­ly the only woman play­ing and he treat­ed me as equal­ly as the oth­ers: if I was open, he sent the ball into the space in front of me, if I wasn't open — he nev­er made the sil­ly pass­es that some men did to try to act like they were being egal­i­tar­i­an. The "into the space" pass­ing was con­sis­tent — he was a supe­ri­or strate­gist — and many of us had been col­lege or semi-pro play­ers. We always want­ed him on our team."

"After games we had dis­cus­sions — and we found that the same thought­ful­ness of play was evi­dent in his think­ing about pol­i­cy and social issues. He was a seri­ous guy, but always had a ready laugh or twin­kle in his eye."

"I was doing my Ph.D. — I assumed he was a fel­low grad stu­dent. When I saw him on tele­vi­sion at the Demo­c­ra­t­ic Con­ven­tion I was only sur­prised that I knew him, but entire­ly not sur­prised at his achieve­ment."

"The peo­ple who are mak­ing these claims, Fox et al, do not under­stand Colum­bia. I recent­ly told a father of a cur­rent stu­dent that he should vis­it the cam­pus on a warm Fri­day night to see the school envi­ron­ment that is unique­ly CU — it is the same as when I stud­ied there: hun­dreds of us sit­ting on the library steps doing school work on lap­tops."

Cur­rie isn't sur­prised that he was not wide­ly-remem­bered by fel­low Colum­bia class­mates. "My sense of it was that he was keep­ing a low pro­file," Cur­rie said.

He seemed like some­one who had made a deci­sion to pri­or­i­tize his stud­ies, she said. "We'd ask him to go out with us for beers after soc­cer," she said. "He seemed like he want­ed to, but then he'd step back and say, 'Sor­ry, I'm going to the library.' "
Jonathan Zim­mer­man '83, Class­mate (Added 8/10/2012)
Would he attend his thir­ti­eth next year? Obama's class­mate Jonathan Zim­mer­man, direc­tor of the His­to­ry of Edu­ca­tion Pro­gram at New York Uni­ver­si­ty, who remem­bers the pres­i­dent from a soci­ol­o­gy class taught by Andrew Walder, hopes so. "I've nev­er been to a reunion," he said. "But if that guy says he's going, I'm going!"

---
FACULTY
Lennard Davis, Assis­tant Pro­fes­sor (Now Pro­fes­sor at Uni­ver­si­ty of Illi­nois at Chica­go)
In the spring of 1983, I was Barack Oba­ma's pro­fes­sor at Colum­bia Uni­ver­si­ty. Barack, or Bar­ry as he was known then, was a senior in my class on "The Nov­el and Ide­ol­o­gy." I under­stand from reli­able sources that he liked the class and was intrigued by what I was teach­ing.
Michael L. Baron, Pro­fes­sor of Polit­i­cal Sci­ence
One per­son who did remem­ber Mr. Oba­ma was Michael L. Baron, who taught a senior sem­i­nar on inter­na­tion­al pol­i­tics and Amer­i­can pol­i­cy. Mr. Baron, now pres­i­dent of an elec­tron­ics com­pa­ny in Flori­da, said he was Mr. Obama's advis­er on the senior the­sis for that course. Mr. Baron, who lat­er wrote Mr. Oba­ma a rec­om­men­da­tion for Har­vard Law School, gave him an A in the course.

Colum­bia was a hotbed for dis­cus­sion of for­eign pol­i­cy, Mr. Baron said. The fac­ul­ty includ­ed Zbig­niew Brzezin­s­ki, the for­mer nation­al secu­ri­ty advis­er, and Zal­may Khalilzad, now the Amer­i­can ambas­sador to the Unit­ed Nations. Half of the eight stu­dents in the sem­i­nar were out­stand­ing, and Mr. Oba­ma was among them, Mr. Baron said.

In 1983, as a senior at Colum­bia in New York, Barack Oba­ma enrolled in an intense, eight-stu­dent hon­ors sem­i­nar called Amer­i­can For­eign Pol­i­cy. His for­mer pro­fes­sor, Michael Baron, recalled in an inter­view with NBC News that Oba­ma eas­i­ly aced the year-long class. But Baron says he nev­er had any inkling that the gan­g­ly senior would scale such heights.

"You wouldn't say, 'Oh, he's going to be sec­re­tary of state or pres­i­dent some­day'," Baron said. Oba­ma was whip smart and "clear­ly one of the top one or two stu­dents in the class," he said, but Obama's sev­en class­mates also could hold their own. "No real dolts in the class," Baron remem­bered.

Twen­ty-five years lat­er, Baron is pres­i­dent of a dig­i­tal-media com­pa­ny in Flori­da and has hung up his pro­fes­so­r­i­al tweeds for good. He had saved Obama's senior paper for years, and even hunt­ed for it again this month in some box­es. But he said his search was fruit­less, and he now thinks he tossed it out eight years ago dur­ing a move.

Baron described the paper as a "the­sis" or "senior the­sis" in sev­er­al inter­views, and said that Oba­ma spent a year work­ing on it. Baron recalls that the top­ic was nuclear nego­ti­a­tions with the Sovi­et Union.

"My rec­ol­lec­tion is that the paper was an analy­sis of the evo­lu­tion of the arms reduc­tion nego­ti­a­tions between the Sovi­et Union and the Unit­ed States," Baron said in an e‑mail. "At that time, a hot top­ic in for­eign pol­i­cy cir­cles was find­ing a way in which each coun­try could safe­ly reduce the large arse­nal of nuclear weapons point­ed at the oth­er … For U.S. pol­i­cy mak­ers in both polit­i­cal par­ties, the aim was not dis­ar­ma­ment, but achiev­ing deep reduc­tions in the Sovi­et nuclear arse­nal and keep­ing a sub­stan­tial and per­ma­nent Amer­i­can advan­tage. As I remem­ber it, the paper was about those nego­ti­a­tions, their tac­tics and chances for suc­cess. Barack got an A."

Baron said that, even if he could find a copy of the paper, it would like­ly dis­ap­point Obama's crit­ics. "The course was not a polem­i­cal course, it was a course in deci­sion mak­ing and how deci­sions got made," he said. "None of the papers in the class were con­tro­ver­sial."

So would it pro­vide any polit­i­cal ammu­ni­tion today? "I don't think it would at all," Baron said. "It wasn't a posi­tion paper; it was an analy­sis of deci­sion-mak­ing."

Baron acknowl­edges that he's a big Oba­ma sup­port­er. He wrote a let­ter of rec­om­men­da­tion for his for­mer stu­dent when Oba­ma applied to Har­vard Law School. And, Fed­er­al Elec­tion Com­mis­sion records show, the for­mer pro­fes­sor has donat­ed $1,250 to Obama's pres­i­den­tial cam­paign.

"Peo­ple assume he's a novice," said Michael L. Baron, who taught Mr. Oba­ma in a Colum­bia sem­i­nar on inter­na­tion­al pol­i­tics and Amer­i­can pol­i­cy around the time he wrote the Sun­di­al arti­cle. "He's been think­ing about these issues for a long time. It's not like one of his advis­ers said, 'Why don't you throw this out?' "

In a paper for Dr. Baron, Mr. Oba­ma ana­lyzed how a pres­i­dent might go about nego­ti­at­ing nuclear arms reduc­tions with the Rus­sians — exact­ly what he is seek­ing to do this week.

---

Pre­vi­ous Page: Birth to High School Next Page: First Jobs and Har­vard Law School